Tameside
Street to be Dedicated in Salute to Stalybridge Soldier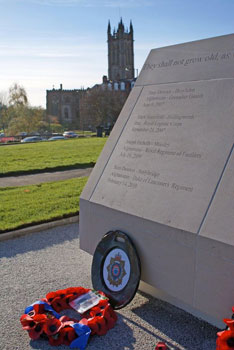 STALYBRIDGE will salute one of its soldier sons on Friday, November 3, when it hosts a dedication ceremony for newly-opened Kingsman Sean Dawson Way.
Sean, who was only 19, was serving with the 2nd Battalion, Duke of Lancaster's Regiment, when he died in February, 2010. He was killed during an exchange of gunfire while on night patrol in Helmand Province, Afghanistan. His colleagues hailed him as a true lion of England.
The ceremony, at which Sean's father, Sean Dawson senior, will be guest of honour, will also be attended by the Civic Mayor of Tameside, Cllr Tafheen Sharif; Cllr Gerald Cooney, Tameside Council's executive leader; Jonathan Reynolds, MP for Stalybridge and Hyde; and representatives of Sean's schools, Buckton Vale Primary and Copley Academy.
Members of Stalybridge Royal British Legion (RBL) will also be present with standards.
Cllr Jan Jackson, who represents Tameside Council's Stalybridge North ward and helped the RBL to organise the ceremony, said: "Everyone in Stalybridge is immensely proud of Sean and we were determined to make sure his heroism would never be forgotten.
"I am delighted we are able to honour his sacrifice in this way. The fact the dedication takes place at the start of November, the time of year when the nation traditionally remembers the fallen, makes the event even more poignant."
Cllr Vincent Ricci, Tameside Council's Armed Forces Covenant lead, added: "People sometimes think remembrance is only about the two world wars, but it includes many conflicts.
"Sean was one of five soldiers from the borough who died in Afghanistan between 2007 and 2010. His name, and theirs, are inscribed on the post-1945 war memorial in Ashton with many others.
"As an authority, we are fully committed to supporting our armed forces members, past and present. That's why we signed the Armed Forces Covenant in 2012, and it's why we made a pledge to name new streets built in the borough after local servicemen and women who died in service."
The dedication ceremony will take place at noon on Friday, November 3. The entrance to Kingsman Sean Dawson Way is between 79 and 81 Ridge Hill Lane.