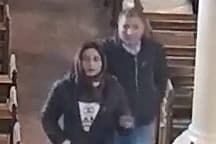 A theft from a woman occurred at approximately 11.54am at Our Lady of Grace Church, on Fairfax Road on Monday 16 October 2023.
The victim, an 84-year-old woman, was followed for some distance to her local church.
A male and female entered after her and confronted her within the centre of the church.
Whilst distracting her one of the offenders reached into her handbag and took an envelope containing £500. Both offenders left together, leaving the victim alone.
prestwich church appeal.PNG
Officers are now appealing for anyone who recognises the people pictured, or was nearby when the incident took place, to come forward and assist their investigation.
Information can be shared via 101, quoting the crime reference number CRI/06NN/0018876/23.