Tameside
David stubs his smoking habit, with support from Be Well Tameside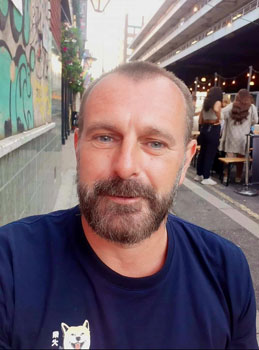 A Tameside man who successfully quit his 30-year smoking habit is encouraging others to do the same this Stoptober.
David Hall, 44, from Dukinfield, had previously tried to stop smoking twice but this time – with the help and support from Tameside's free stop smoking service, Be Well Tameside, he was motivated to quit for good and determined to get healthier to help improve his asthma and breathing.
Be Well Tameside offer stop smoking support from specialist stop smoking advisors, as well as, supporting smokers to access quit smoking aids, such as nicotine patches and lozenges. The specialist stop smoking support can massively boost a smoker's chances of quitting for good.
David explained how he would receive regular telephone calls from his advisor at Be Well Tameside when it suited his schedule.
He said: "I was particularly grateful for the advice at my first appointment, when the advisor advised me to try a patch, she explained everything concisely and clearly.
"My advisor made sure my prescriptions were sent to the nearest pharmacy every two weeks or more so I had enough ready to collect, and she always encouraged me to continue and keep going."
When stopping smoking, it is proven that there is a noticeable difference after just 20 minutes, as your pulse will start to return to normal. After eight hours, your oxygen levels are recovering and after 72 hours breathing will become easier and energy levels will increase. These improvements continue steadily all the way up to 10 years. After one year, your chances of a heart attack will have halved.
David has seen drastic differences after not smoking for over three months. He said: "The biggest and best thing about stopping smoking for me was when I got a call from my GP practice to let me know I have not ordered my inhalers.
"Without this call I would not have realised I wasn't using them as much, my breathing has improved to the point I do not need the blue inhaler. My circulation is better, I have more energy and I walk a lot more, I am buzzing that I have stopped smoking!"
From David's experience with Be Well Tameside, he said: "I would most definitely recommend the service, as they have been so empathetic, approachable, and non-judgemental and I cannot thank them enough."
People who live, work or have a GP in Tameside can access free, flexible, face to face or telephone support through Be Well Tameside, as well as getting six months free access to 24/7 stop smoking support through the Greater Manchester Smokefree App. Stop smoking support can also be accessed by speaking to your GP or local pharmacy.
Tameside Council Executive Member for Population Health and Wellbeing Councillor Eleanor Wills said: "It is inspiring to hear such a positive journey in stopping smoking, as well as the large role our very own service, Be Well Tameside, played in supporting David to improve his health and lifestyle.
"We are continuing to urge smokers to stop for good and to access support, whether that be through Be Well Tameside, your local GP or pharmacy. No matter how many times you have tried to quit before we can work together to help you become smoke free."
If you would like to contact Be Well Tameside you can email them at [email protected] or you can call them on 0161 342 5050, you can also visit their website here.