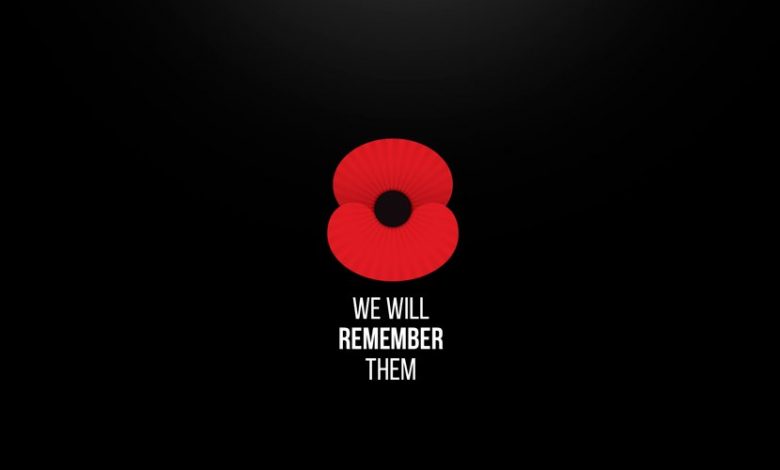 It's a day to remember and honour those who fought and continue to fight for the free world.
Through the years many players who've dawned the Manchester United colours have also fought in a war.
Here's a look back at those Reds who we will never forget.
Gilbert Godsmark, Army Service Corps (att. 75th Battery Royal Field Artillery)
 Born a year before the club was founded under the name Newton Heath (founded in 1878) Gilbert Godsmark made just nine appearances for the side in 1900.
The inside forward scored four goals in all before being called to duty as a reservist for the British Army in the Second Boer War.
Touted as a top prospect for the club in its early existence, Godsmark died from an unknown illness while serving in South Africa.
Arthur Beadsworth, Sergeant 11677, 7th (Service) Battalion Leicestershire Regiment
Newton Heath became Man United in 1902 and one of the club's first signings was Arthur Beadsworth.
The forward from Leicester also appeared nine times for United in the second division.
The youngster had a memorable debut scoring the winner against what would become one of United's biggest rivals in Arsenal.
Beadsworth initially served with the Leicestershire Regiment in the early 1890s but was discharged for being underage.
After the outbreak of World War I in August 1914 he re-enlisted with his old Regiment.
Sadly, he was gassed in the third battle of Ypres and died of his wounds near Boulogne, France in 1917.
Thomas Clifford, Private 34893, 6th/7th (Service) Battalion Royal Scots Fusiliers
Born in Scotland in 1875 Clifford represented Newton Heath as a centre-half at the reserve level from 1896-1897.
Records show he made 26 first-team appearances in Scotland, scoring five goals.
As a private for the Royal Scots Fusiliers, he served in World War I.
Clifford died on the Somme in France in 1917.
His name is one of 72,000 listed on the Memorial to the Missing in Thiepval.
Bernard Donaghey, Private 2289, 1st Battalion Royal Inniskilling Fusiliers
Ireland international Bernard Donaghey made three appearances for the Reds in 1905/06.
An inside forward he featured for Irish side Glentoran and Hibernian in Scotland as well as Burnley in England scoring 10 goals in all.
Donaghey was a catholic and joined the Inniskilling Fusiliers in the First World War in 1915.
He served in Gallipoli and was killed in France on the first day of battle in Somme,
His name is on the Memorial to the Missing in Thiepval as well.
George Elmore, Lance Corporal 18619| 15th Battalion (1st Edinburgh) Royal Scots
Born in Whitton in 1880 Elmore got a trial run with United in 1902.
He was released within a month by the club.
He joined the Royal Scots in 1914 a month after the Brits entered World War I.
In 1916 he went missing and presumed killed in action on July 1, 1916.
He's also on the list of Missing in Thiepval.
Alfred Griffiths, Private 2663, 1st Battalion Manchester Regiment
According to research, Griffiths played goalkeeper for Newton Heath in the winter of 1899.
After serving in the Anglo-Boer War in 1901, he returned to Manchester to play football.
The Athletic News says Griffiths was spectacular in a reserve game for Newton against Burnley that year, keeping a clean sheet.
It's presumed he died in March 1916 while serving in World War I with the 1st Battalion Manchester Regiment.
Hugh S. Kerr, Private 515549, 14th (City of London) Battalion (London Scottish) London Regiment
A forward from Scotland who made 2 appearances for Man United in 1913/14.
He died from wounds near Boulogne, France in 1918.
He also featured in Scotland scoring five times in 10 appearances for Ayr.
Harry Levis, Private 43594, 22nd (Service) Battalion (7th City) Manchester Regiment
A reserve player for United in 1913/14.
United curator Mark Wylie says the name Harry Levis appears only three times in the 1911 census, two of them from the North West with one of those in Salford.
Levis went missing in action with the Manchester Regiment.
Oscar H.S. Linkson, Private F/1723| 17th (Service) Battalion (1st Football) Middlesex Regiment
As a full-back, the English native played 59 times for the Reds from 1908-1913, winning the league title in 1910/11.
He was killed in Somme in France in August 1916 at the age of 28.
His name is also on the Thiepval Memorial.
Patrick McGuire, Private 24744 17th (Service) Battalion (2nd City) Manchester Regiment
A United reserve player in 1910/11, Maguire has the distinction of playing for both United and their biggest rivals Manchester City.
The full-back made 15 first-team appearances for City.
The private joined World War I about a year into the battle dying at Somme, France.
Like others mentioned he's commemorated on the Thiepval Memorial of missing.
Charles N. Newcombe Lieutenant| 7th (Service) Battalion King's Own Yorkshire Light Infantry
An amateur with the United reserves in 1913/14 and educated at a private school in Chesterfield.
According to reports, he was desperate to join the army when World War I broke out.
He was shot by a sniper while serving near Armentieres, France, in 1915
Harry Reynolds, Private 28819, 20th Battalion Manchester Regiment
Records indicate Reynolds made three appearances for the United reserves from 1907-09 as an inside forward.
He volunteered for the army in 1915 and is buried in Dantzig Alley British Cemetery in northern France.
James Semple, Private 6041, 10th (Service) Battalion Lancashire Fusiliers
A Scotsman from Perth, originally a baker who became a footballer in the early 1900s.
Semple joined United in 1908 though he never made the first team.
Records indicate he returned as a baker in 1911 and joined the Battalion Lancashire Fusiliers in the Great War.
He was another one lost in Somme.
John Thornley, Private 244238, 10th Battalion Cheshire Regiment
John registered as a Man United reserve in 1905 making one appearance for them in a 4-1 win over the Northern Nomads.
He's the brother of former City and England forward Irvine Thornley.
He joined the 10th Battalion Cheshire Regiment in 1917.
Wounded in the Battle of St. Quentin he died from his injury's March 31, 1918, near Boulogne, France.
Alexander "Sandy" Turnbull, Lance Sergeant 28427, 8th (Service) Battalion East Surrey Regiment
A Scottish forward for the Reds who enjoyed an illustrious career with the club from 1906-15.
During that time Turnbull was a fan favourite with 220 appearances, scoring 90 goals.
In his years with the club, United won the First Division title twice (1907/08 and 1910/11) along with the FA Cup (1908/09).
He transferred to the East Surreys who were in desperate need of men.
It's presumed he was captured while fighting in Arras.
His name is on memorials in Arras and Gorse Hill, near Old Trafford.
Thomas H. Wall, Private 50875, 2nd/10th Battalion Manchester Regiment
Thomas spent a brief time at the club between 1908-10.
He was an outside left-winger who was a good prospect who didn't make it past the reserve level.
Thomas died in the battle of Passchendaele in Belgium.
Francis B. Carpenter, Gunner 957763, 61 (The Denbighshire Yeomanry) Medium Regiment, Royal Artillery
A reserve team player for the Reds in 1939/40.
The United player barely featured before being shipped off to France in the Second World War.
He was killed during the retreat in Dunkirk.
George Curless, Pilot Officer 117256, 625 Squadron, Royal Air Force
Curless is a graduate of the Man United Junior Athletic Club and a young reserve player from 1940-44.
He was also a ground staff member for the club and joined the RAF (Royal Air Force) as a volunteer, going through pilot training in the US.
While flying from RAF Kelstern in Lincolnshire his aircraft disappeared on a bombing raid in the Kiel canal in Northern Germany.
David H. Fenner, Flying Officer 179037, 98 Squadron, Royal Air Force
A native of Scotland who according to records played six times for Man United in 1944.
United curator Mark Wylie says: "Fenner served in 98 Squadron, which was doing army co-operation sorties after the invasion of Normandy".
"The squadron's war diary states his aircraft as last being seen flying into a cloud over Holland but it's not known what happened after that," says Wylie.
George L. Gosnell, Pilot Officer 119552, 2 Squadron, Royal Air Force
Gosnell was a member of the Reds in the 1941/42 season though details are sketchy.
Mark Wylie says: "We're unclear whether he was an Oldham Athletic player who guested for Manchester United or vice versa, he could even have been somebody else's player who guested for both."
Wylie says they believe his aircraft crashed in World War II in the UK dying from his injuries.
Frederick Okoro, Gunner 1697582, 2/1 Maritime Regiment, Royal Artillery
Born in the St. Chads area of Manchester Okoro signed with United as an amateur on August 28, 1936.
While there's no physical evidence, it's believed he featured for the Reds in some pre-season matches in 1936.
The club released him the following year.
While serving with the Maritime Regiment it's presumed he was killed in action on 2 November 1942.
Hubert Redwood, Corporal 3660044, South Lancashire Regiment
A first-team player for United from 1933-43 and a highly regarded full-back.
If not for the Second World War it's believed he would've represented England on an international level.
While serving in the South Lancashire Regiment he caught tuberculosis, leading to his discharge from the army and he later died.
Walter Spratt, Civilian
 Born in Birmingham records indicate Spratt played 13 times for Man United from 1915-20.
Spratt played for the Reds during World War I joining from Brentford.
By the time the Second World War came around Spratt was living in London and working in Southwark.
He was one of 35 people killed by a V2 rocket in 1945. (JSL)