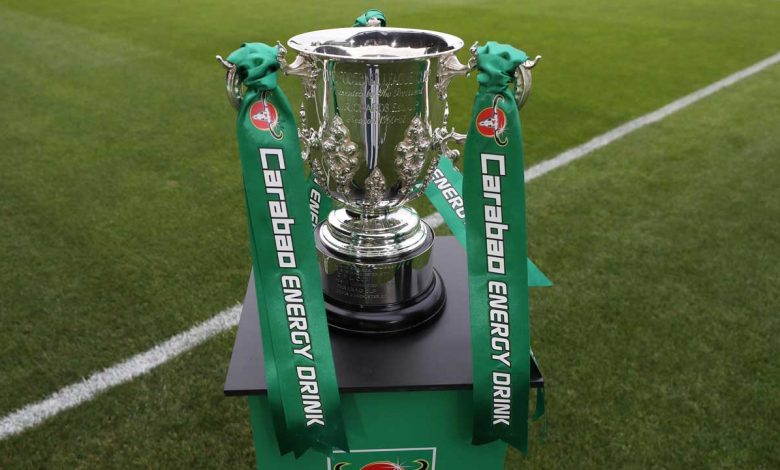 Seeking the quad
The quadruple may no longer be a reality for Manchester City, but a win on Sunday would give them a quadruple of a different sort.
Pep Guardiola's side have an opportunity to capture a fourth consecutive Carabao Cup when they face Tottenhem on Sunday.
A triumph at Wembley would also put them even with Liverpool for most EFL titles with eight.

Lineup News
Both Sergio Aguero and Kevin De Bruyne trained this week though their status for Sunday's final remains up in the air.
De Bruyne has a foot and ankle injury that he sustained in City's FA Cup defeat to Chelsea, while Aguero has missed the Sky Blues last four matches.
Pep Guardiola has already said Zack Steffen will start in goal.
John Stones is out after his red card against Aston Villa, so expect to see either Aymeric Laporte or Nathan Ake start in central defence, likely alongside Ruben Dias.
The status of Harry Kane is in doubt heading into this final as the top scorer in England sustained an ankle injury in a draw with Everton in mid-April.
Matt Doherty and Ben Davies are doubtful for Ryan Mason's side on Sunday with injuries, while the new manager may want to bring back Dele Alli and Harry Winks.
Road to the Final
For Man City, the road to this point in the competition has been a fairly smooth one.
It started with a 2-1 win over Bournemouth, followed by an emphatic 3-0 win against Burnley.
They disposed of Arsenal 4-1 before blanking their arch-rivals Manchester United in the semis.
For Spurs, the road has not been as easy, but all that matters is they got it done.
It began with a walkover win against Leyton Orient.
In the round of the 16, they drew 1-1 with Chelsea and thanks to Hugo Lloris, who stopped Mason Mount's spot-kick, they advanced to the last eight.
They had no trouble getting past Stoke City 3-1 in the quarter-finals before shutting out Brentford 2-0 in the semi-finals.
On a roll
Pep Guardiola has admitted this competition is not a high priority, but that doesn't mean his side do not enjoy it.
The Citizens have won their last 19 Carabao Cup ties, with their previous elimination coming in 2016.
Head to Head
Man City have struggled to get favourable results against Spurs over the past couple of seasons.

They won 3-0 the last time out, but they have had their struggles with the London side before that.
The last match was the only one in their previous four meetings against Tottenham where the Sky Blues came away the winners.
The last time these teams met in a Cup final goes back to 1981 when Ricky Villa scored the lone goal in a replay to give Spurs the FA Cup.
Making History
City aren't the only side looking to make some history on Sunday.
Following the dismissal of Jose Mourinho, Tottenham are putting their faith in Ryan Mason.
The former Spurs midfielder became the youngest manager in Premier League history at 29.
That eclipsed the previous EPL mark set by Attilio Lombardo, who was 32 when he became player-manager for Crystal Palace.
If Spurs can win on Sunday, he'd be the youngest manager to win this competition.
Mason never captured any silverware during his playing days though he came close in 2014-15, losing the Carabao Cup final to Chelsea.
Coming up big
One player City have always depended on when they're down and out is Phil Foden.
The Englishman has more goal involvements than anyone before turning 21.
Harry Kane will desperately want to be involved in Sunday's final.
The reigning World Cup Golden Boot winner has five goals in his last five games.
Shutting out their opponents
Traditionally when these teams meet in any competition, it's a good day for one of the goalkeepers.
In four of their past five meetings in all competitions, the winning side have maintained a clean sheet.
If we go back even further, six of the last eight fixtures in all competitions have resulted in shutout wins.
Each team have kept three clean sheets in that period.
Managers Words
Heading into Sunday's final, City manager Pep Guardiola says this is a trophy his side want to win badly.
 "Tottenham's commitment will be incredible, and the quality of their players is extraordinary. It is a final, and once you are there, every player wants to win it. And we are no exception.
"We deserve to be here. We had a tough competition, especially in the semi-final. We were there, and every team wants to win finals.
"We will travel to London to play a good game and win the title."
Match Info
Sunday's match will be played in front of 8,000 fans in London.
The kickoff from Wembley Stadium is at 4:30 pm. (JSL).