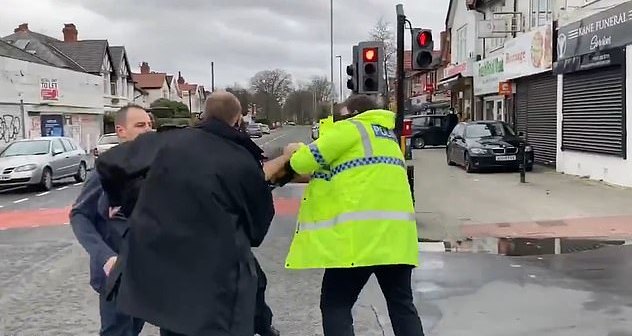 A social media video on a police officer of GMP got a lot of reactions for unacceptable violence. In the video, the police officer punched a cafe worker on Sunday for resisting arrest.
According to GMP, police officers got a report that the owners of a cafe in Burnage defied orders to shut its doors during the coronavirus lockdown. In the video, two police officers were speaking with a cafe worker that 100 people in the cafe didn't have masks and social distance and didn't obey the lockdown rules.
In the video, a police officer punched to 38-year-old cafe worker while customers shooting at the police. The cafe worker has been arrested on suspicion of assaulting a police officer.
After the man was arrested, a social media video was shared that shows how the police officer punched the man. The video got a lot of reviews and people started to react to the unacceptable violence of the police officer.
For the video, a spokesperson of GMP said: "Police were responding to reports of non-compliance with Covid-19 restrictions by a café on Burnage Lane in Manchester. Officers attended and in line with the procedure, attempted to engage with individuals, and disperse attendees. This resulted in an officer being assaulted.
"GMP are aware of the footage circulating online and are continuing to assess all the circumstances of the incident, including this footage as well as other footage obtained, at what remains an early stage in the investigation."
"An officer sustained injuries but did not require hospital treatment.14 Fixed Penalties Notices have so far been issued to those in attendance."