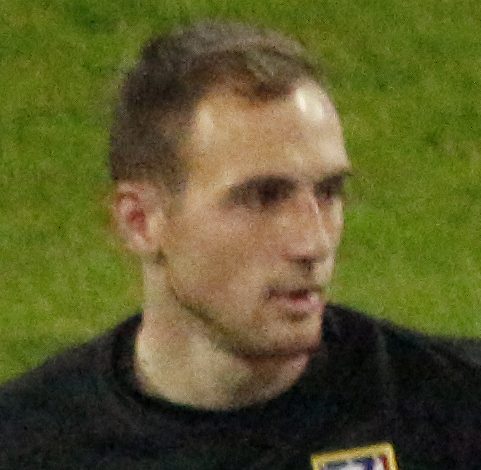 Weighing their options
It appears having two capable first-choice keepers is not enough for Manchester United.
The word is the Reds are in the market for another shot-stopper during the summer transfer window.
The Reds currently have five goalkeepers listed on the senior side, with Dean Henderson and David de Gea as the only two who've featured in goal this season.
As we hit the Premier League season's home stretch, United's front office will need to decide if they want to be buyers or sellers this summer.
We may see a mixture of both when that moment arrives.
As for a goalkeeper, the Reds appear to be looking outside of England for a new stopper.
Here's a look at a few names worth mentioning.
Jan Oblak- Atletico Madrid
The Slovenian keeper has his side in line to capture their first La Liga title since the 2013-14 season.
Oblak is a big reason for that, making 68 saves in his 25 domestic league appearances. He's kept 12 clean sheets in La Liga thus far and allowed only 17 goals. When you can put up those numbers in a league that can boast the likes of Lionel Messi and Karim Benzema, that's quite the feat.
Signing the 28-year-old would seem like a smart investment, but there's a rub, in fact, a couple. Oblak is currently under contract with Atletico for two more years with an exit clause valued at £103m. That's a steep price to bring the quality keeper to Old Trafford.
One theory could make signing the Slovenian a little less complicated, and it involves United's current number one.
Before Dean Henderson signed a five-year deal last summer, David de Gea was the unquestioned number one with the Red Devils. 
Home, as they say, is where the heart is, and de Gea grew up in Madrid and began his career with Atletico. 
While he's called Old Trafford home since 2011, there's plenty of reason for the 30-year-old to come back home.
De Gea's wife, pop star Edurne calls Madrid home, and the couple recently had their first child, a daughter named Yanay.
Just like Oblak, the Spaniard also has two years remaining on his current Man United contract.
A straight-up swap between both high-priced keepers may bring down the price of Oblak's release clause if the Reds want to part company with de Gea.
Gianluigi Donnarumma- AC Milan
The Reds will soon get a first-hand look at the Italian keeper in the Europa League.
To follow in Gianluigi Buffon's footsteps is no easy task, but that's one Donnarumma has done impressively in leading the Azzuri to the semi-finals of the UEFA Nations League.
At 22-years-old the Donnaruma has poise and presence well beyond his years.
His nine clean sheets in Serie A have AC Milan in range for their first domestic league title since 2010-11.
He's made 51 saves in 25 appearances in the Italian top-flight this season as Milan are currently six points back of rivals Inter in the table.
The Italian's age and contract make him an attractive option for United.
His best years in football are in front of him and he's due to be a free agent at the end of the season.
Mike Maignan- Lille
He may be the best-kept secret among goalkeepers in Europe, but adding Mike Maignan could be quite the bargain.
The man who grew up in French Guiana has put together an impressive campaign in Ligue 1.
The 25-year-old has Lille on course to dethrone the PSG's run of three straight domestic titles.  Lille is two points clear of the Parisians atop the standings with ten games remaining.

Maignan has 15 clean sheets to lead all Ligue 1 keepers as Lille has allowed a league-low 17 goals in this domestic campaign.
His current contract expires in June 2022, and he is due for a significant raise.
He currently earns just over £1m a year, which is peanuts when compared to some of the top keepers in Europe.
His low salary will make him the most affordable option.
Standing in the way
United may miss out on a fourth consecutive season without a trophy. If they do goalkeeping won't be to blame.
Both David de Gea and Dean Henderson have performed incredibly well on a side with a mediocre defence.

If not for the significant hulking presence of Harry Maguire, both Reds keepers could be facing a shooting gallery every game.

De Gea has nine clean sheets this season, the fourth-most in the Premier League.

Henderson has nine clean sheets in all competitions and hasn't conceded a goal in his last six outings.
It seems pretty clear neither keeper will be happy playing second fiddle at Old Trafford. If we think in those terms than the most straightforward option would be to keep one next season.
Offloading de Gea seems to make the most sense.
If the Reds can get rid of his salary of around £350,000-per-week, that can free up a lot of space to sign a striker. The Spaniard is currently under contract until 2023.

Sergio Romero is clearly on his way out of Old Trafford. Offloading his salary won't save the Reds a ton of cash but in these unprecedented times; every little bit helps.
If they want to have the money to buy a player like Erling Haaland or Harry Kane this summer, losing the Spaniard might be the easiest option.
Henderson signed a five-year deal last summer, and it seems he's getting restless about sitting on the bench.
He's shown he can play at an elite level but still has yet to prove he can help this side win.
With de Gea away on personal leave, Henderson has a golden opportunity to establish himself as the teams' unquestioned number one.
Winning the Europa League or FA Cup could make the decision a lot easier for United's front office.  (JSL).