Crime
Memorial bench for Manchester Arena attack victim has been destroyed
Kelly Brewster one of the 22 killed in 2017 suicide bombing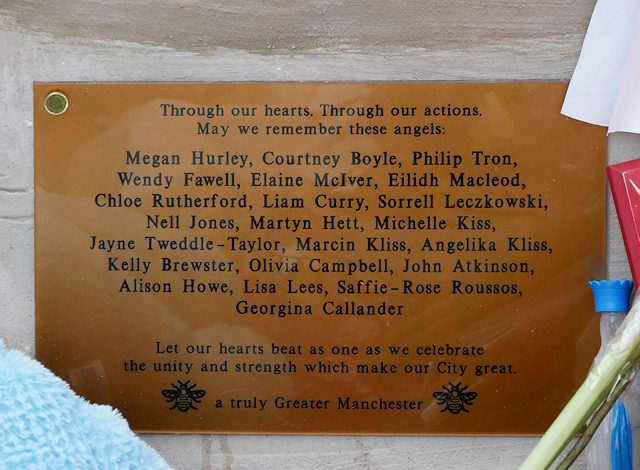 "Outraged"
There is anger in Sheffield after a memorial bench burned down over the weekend.
The bench was in honour of 32-year-old Kelly Brewster, one of the 22 victims killed in the Manchester Arena bombing in May 2017.
Councillor Ben Miskell who represents the Arbourthorne area where the bench was located says he's "outraged" about what happened.
"I felt angry that people would have the audacity to burn a bench that meant so much to people in our community," he says.
According to South Yorkshire Fire and Rescue Service, the fire quickly spread to a nearby community centre just before 17:30 GMT on Saturday.
Three crews spent an hour battling the blaze.
Police in South Yorkshire are investigating the incident and seeking more information from anyone who could help.
Mr Miskell said those behind this attack "should be ashamed of themselves". 
"Not only have they destroyed a bench dedicated to a young woman who tragically lost her life in a terror attack, but they have also caused thousands of pounds worth of damage to a well-loved community building," he adds.
He also had a theory as to what might have instigated this incident.
He says it's "perhaps linked to some of the anti-social behaviour we've seen over the last few weeks and months" in that vicinity.
Building a new bench

There's now talk of building a new bench in memory of Ms Brewster.
Councillor Miskell says: "There've been lots of offers of help from residents to buy a new bench and people saying they'll reach into their pockets and contribute to that themselves, which is absolutely wonderful."
PC Leigh Jenkinson of South Yorkshire Police calls the attack a "mindless act of vandalism".
The officer adds: "At this time, we do not believe this to be a deliberate, targeted act of damage to the bench, but nevertheless, this has been extremely upsetting for the family, and we want to ensure those responsible are found." (JSL).