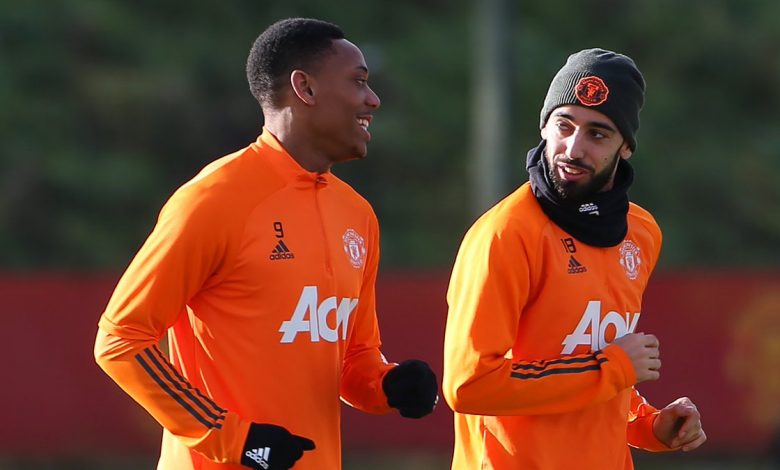 "Here, we go again."
An all too familiar storyline has followed a disturbing trend in the Premier League.
Anthony Martial is the latest top-flight player to receive racial abuse on Instagram following Manchester United's 1-1 draw at West Brom.
Several users posted racist messages and symbols on the Frenchman's photos with some even using the N-word.
It's not the first time the United striker has been on the receiving end of online abuse. Both he and teammate Axel Tuanzebe got abusive Instagram comments after a 2-1 loss to Sheffield United.
Last weekend United, along with Manchester City, Liverpool and Everton all made a joint statement condemning the racist abuse.
Marcus Rashford, Reece and Lauren James, Alex Jankewitz, and Romaine Sawyers are just a few more footballers on the men's and women's side who've gotten racial abuse online.
The group "Kick It Out" which advocates against racism spoke out about the latest online incident.
"Here we go again," said Troy Townsend, the company's head of development.
"It's so predictable now."
"I wonder if this account will be barred for a month and collect their 'Insta slap on the wrist' and 'don't do that again' talk," he adds.
Instagram said they'll impose stricter penalties, including removing accounts to prevent abusive messages on its platform.
Instagram's parent company Facebook says moderators removed the racist posts against Martial.
Taking Action
Social media companies are under intense pressure from the footballing community to do more to protect players.
Earlier this month United boss Ole Gunnar Solskjaer said the conversation regarding online abuse has a polarizing effect.
Solskjaer says the abuse is "unacceptable", adding the club will work with authorities to prevent future occurrences.
"I don't think this is just a matter of footballers or famous people," Solskjaer said. "That gets highlighted, which is, in a sense good that we talk about it, but it's unacceptable behaviour. It happens all across society."

The Football Association (FA) called out the UK government to do their part in this matter.
The government responded by saying social media companies could face "large fines" amounting to "billions of pounds" for failing to tackle abuse on their platforms. (JSL).