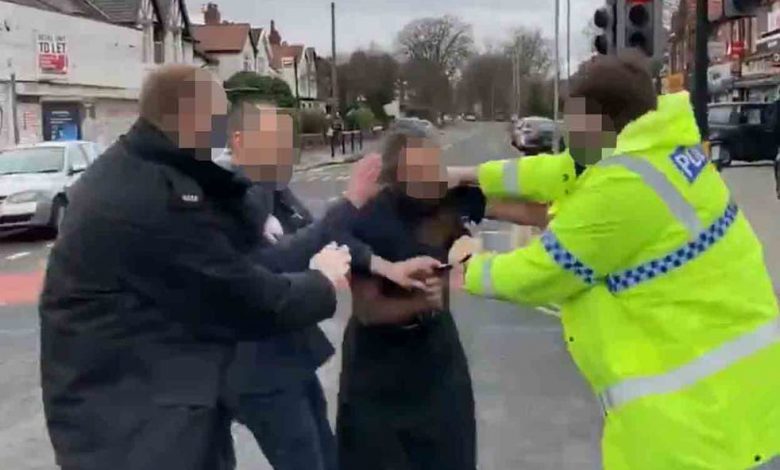 After the social media video showed a police officer who punched a cafe worker, GMP shared a video that shows the details of the arrest.
Some concerns and rumours started to spread after the video of the police officer and the cafe worker on social media.GMP shared the details of the investigation and shared a video that shows that people in the cafe didn't obey the coronavirus lockdown rules.
On Burnage Lane in Manchester, police got a report that a cafe didn't obey the rules and almost 100 people were in the cafe without masks and social distance on Sunday. After the officer came to the scene, they were confronted with verbal abuse from numerous members of the public. At that time, a police officer punched a cafe worker while protecting himself.
GMP shared an announcement on the video and the investigation and said: "Whilst initial reviews suggest that officers' actions were reasonable when assessed within the wider context of the situation, following concerns raised by members of the public, it has been referred to GMP's Professional Standards Branch in line with usual policy."
"Officers in attendance were confronted with verbal abuse from numerous members of the public – all of whom were in breach of coronavirus lockdown legislation – present at the scene. They were then further faced with a reluctance to cooperate by a number of those present, despite the officers attempting to engage with them. One officer sustained physical injuries in the process."
GMP shared a post on Twitter that showed a video related to the arrest :
Update regarding police responding to an incident at a cafe on #Burnage Lane.https://t.co/zEsup3078C pic.twitter.com/QK7mYXYlck

— Greater Manchester Police (@gmpolice) February 8, 2021