Football
Manchester City
City hope to end Cheltenham's Cinderella story
Sky Blues take on Robins in Fourth Round of FA Cup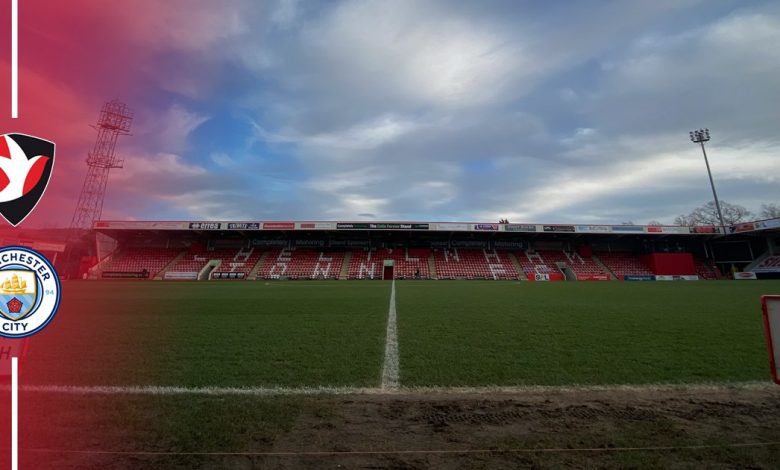 The Glass Slipper
 Cheltenham Town FC hopes to continue its Cinderella story when they host Manchester City tomorrow in the fourth round of the FA Cup.
It's perhaps the biggest matchup in the history of the League Two side who look to advance to the fifth round for only the second time in team history.
Lineup News
 The Robins won't have to contend with a pair of City stars who are out injured.
Kevin De Bruyne has a hamstring injury and won't be available for at least 4-6 weeks.
Sergio Aguero is self-isolating after testing positive for COVID.
Kyle Walker took a knock in Wednesday's win over Aston Villa and won't play on Saturday.
Guardiola tends to give Ederson a rest for the early stages of a cup tie so look for Zack Steffen to get the call in goal.
Tommy Doyle, Cole Palmer, and Taylor Harwood-Bellis will all be pushing to get playing time for the senior side.
For Michael Duff's Robins they'll be missing Chris Hussey and Elliot Bonds who each suffered injuries in their last match against Newport County.
Sean Long is eligible to return after shaking off an injury.
"Free Hit"
 Cheltenham is relishing the role of massive underdogs heading into Saturday's match.
Their chairman Andy Wilcox is calling it the biggest match in the club's history.
Manager Michael Duff says it's the "greatest free hit in history" adding that Cheltenham is ready to pull off the greatest upset in the competition's history in recent memory.
Runaway train
 City's form couldn't be any better heading into this match.
Unbeaten in their last 16 games in all competitions it's been full speed ahead for Guardiola's men who've got a 100% record in 2021.
In their six matches this year they've scored 15 times and conceded just once.
Defence First
 Cheltenham is a team that is defensively sound and doesn't concede much in league play.
They don't have much scoring punch either with only 32 goals but they've been in many tight games this season.
The Robins are unbeaten in their last five matches in all competitions, four of which were draws.
With the likes of Kevin De Bruyne out you can expect Michael Duff's side to really try and clog up the midfield with their traditional 3-5-2 formation.
Matty Blair will likely have the task of shutting down a City side that likes to pass the ball around plenty before moving in on goal.
Alfie May and George Lloyd could be in for a lonely day upfront for the Robins so they'll need to be clinical for Cheltenham to have any hope of an upset.
Cheltenham's been good defensively but they'll be facing a team that's been virtually impenetrable at the back.
City has conceded just once in their last six matches in all competitions.
A first for everything?
 This is the first time these sides will ever be playing each other.
In the past Cheltenham has not fared well against teams in higher divisions.
The League Two side has lost all eight of its Carabao and FA Cup matches with Premier League opponents.
City on the other hand has won their last seven games against teams in a lower division in the FA Cup by an aggregate score of 26-4.
Cheltenham has only made it to round five of the competition once previously in 2001/02.
The Sky Blues meanwhile haven't lost at this point of an FA Cup since falling to Middlesbrough in 2015.
Pep's Pre-game Talk
 City manager Pep Guardiola says his men can' afford to take Cheltenham lightly.
"I know the Premier League is the most important competition and the Champions League is the second most important one.
"We have reached four finals in a row in the Carabao Cup and this is because every game is important. We don't drop any competition.
"Cheltenham deserve my respect.
"I am going to play the team against Cheltenham, we are training exactly how we want to do to try and beat them," says Guardiola.
Match Info
Saturday's match at Jonny-Rocks Stadium takes place at 5:30 pm. (JSL).