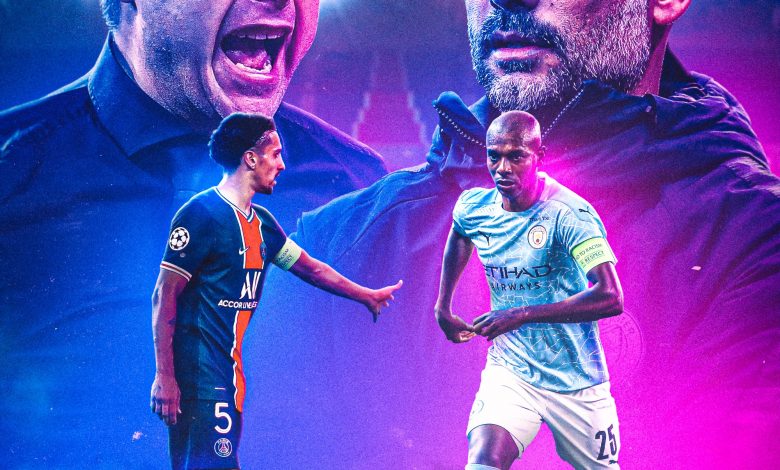 Seeing the Light
Two of football's wealthiest clubs will do battle on Wednesday when Manchester City travel to the City of Lights to face PSG.
According to Deloitte, the club value of the Citizens and Parisians is €549.2m and €540.6m, respectively, making this one of the most expensive semi-finals in Europe.
Neither side have won this competition despite a tremendous amount of success domestically.
Pep Guardiola's side have won everything there is to win under his leadership except this competiton.
They are making only their second appearance in the final four of this tournament, and they're first since 2015-16 when they were eliminated by the eventual champions Real Madrid.
PSG are in danger of losing their Ligue 1 crown, trailing Lille by one point with four games remaining.
They are looking to get back to the final for a second consecutive campaign after falling in the final in 2020 1-0 to Bayern Munich.
Lineup News
PSG fans held their collective breath over the weekend when Julian Draxler replaced leading goalscorer Kylian Mbappe in the closing moments of their French league match with Metz.
Manager Mauricio Pochettino said that the French striker is fit and ready to go at a press conference today.
Layvin Kurzawa might have to pass a fitness test before being cleared to play.
Marquinos and Rafinha are both pushing for a return to the starting 11.
We can expect to see Angel Di Maria in the lineup after coming on as a substitute on Saturday.
Left-back Juan Bernat and reserve goalkeeper Alexandre Letellier are the only ones unavailable.
John Stones is eligible to return after missing the Carabao Cup Final through suspension.
The Sky Blues centre-back should start alongside Ruben Dias in central defence.
Ederson will most likely take his place in goal after Zack Steffen celebrated the EFL Cup on Sunday.
Rodri is likely to replace Fernandinho in midfield and look for Bernardo Silva to start over Raheem Sterling, who has had a miserable season for City.
Road to the semi-finals
City have been most impressive in getting to this stage of the competition.
In the group stage, they put together their best opening round in the Champions League, with five wins and a draw.
A long layoff between the round-robin stage and knockout phase did little to slow their momentum.
They took care of Borussia Monchengladbach, beating them twice by a 2-0 score.
They shut down Erling Haaland and Dortmund with victories of 2-1 both times in the quarter-finals.
For PSG, this campaign has been all about slaying their dragons.
They scraped through a tough group featuring RB Leipzig and Manchester United, finishing first under then-manager Thomas Tuchel.
In the knockout stage, they exercised some demons by knocking out Barcelona 5-2 on aggregate.
Then in the last eight, they avenged their 2020 defeat to Bayern Munich, beating the defending champions on away goals.
Hungry Eyes
Since 2016 these teams have put together some impressive accolades but winning this competition has eluded them.
The Parisians have captured 13 different trophies in France since 2016, including three successive Ligue 1 titles.
Since taking over in 2016, Pep Guardiola has guided the Citizens to eight trophies in England and are still on course to capture a treble this season, having already won the Carabao Cup.
With neither side winning this competition, you can bet we will see two desperate teams laying it all on the line starting Wednesday.
That Sinking Feeling
One thing both these teams and managers understand better than most in football is heartache.
For City, they have been among the most impressive sides in the big five European leagues.
That being said they have always been criticized for not winning the big one, aka the Champions League.
While manager Pep Guardiola has won this competition a couple of times with Barcelona, he has taken a lot of heat for his failures with Man City in Europe.
The Spanish manager has never made it beyond the quarter-finals of this tournament since capturing his second Champions League trophy as Barca coach in 2011.
PSG have suffered some painful defeats in this competition through the years.
There was the  6-1 collapse against Barcelona in the 2017 round of 16.
They also fell 1-0 to Bayern Munich in their first final last season.
Their manager Mauricio Pochettino knows a thing or two about heartbreak as well.
He lost the 2019 Champions League final with Tottenham.

Scoring and Stopping
This semi-final features two teams with a lot of offensive potencies but who are also defensively responsible.
PSG and Man City lead Ligue 1 and the Premier League respectively in goals.
They have also both conceded the fewest domestically with City giving up 24 and PSG 26.
In this competition, both teams have scored 21 times so far.
City does hold a decisive edge in their defensive work in Europe conceding only three times while the Parisians have given up 11. 
Still, you can argue that they have had far superior opponents to have to contend with, especially in the knockout round.
PSG have scored in 34 successive matches in Europe, matching the record set by Real Madrid between 2011 and 2014.
Ederson has kept seven clean sheets but holding PSG scoreless will be even more challenging, particularly in gay Paris.
The defending French champions have found the back of the net in 23 successive Champions League games at the Parc des Princes.
Tall Order
John Stones and Ruben Dias have been phenomenal together in central defence for the Sky Blues.
They will have to be equally as good, if not better, to shut down the Parisian attack.
The pair did a fantastic job on Norwegian phenom Erling Haaland in the quarters.
Now they face the possibility of handling both Mbappe and Neymar.
The 2018 World Cup champion leads Ligue 1 with 25 goals plus another eight in this competition.
He has five goals in his four matches played.
He has only gotten better as this competition has gone on with six goals in their four knockout stage games.
Pep Guardiola had nightmares trying to deal with him as a teenager when he was with Monaco in the 2016-17 Champions League round of 16.
The youngster scored in both legs of that tie to help the Monegasques upset the Sky Blues.
While not as impressive, City's Phil Foden has shown that he can handle this competition's big stage.
The Englishman scored the match-winner in both quarter-final games to help the Sky Blues reach this stage.
Head to Head
These teams have only met three previous times in the Champions League, with the first two ending in draws, while Kevin De Bruyne notched the only goal in the second leg of their 2016 quarter-final.
De Bruyne has scored in each of the last two meetings versus the French champions.
Clearing the penultimate hurdle
These sides have played in their share of semi-finals in past European competitions, but getting beyond this stage has proven quite tricky.
It will be the Citizens fourth semi-final in European competition.
They have only made it past this point once, in 1969-70.
That season they captured the Cup Winners' Cup, their only European triumph to date.
PSG are only the third French side to reach the Champions League's final four in two successive seasons after Saint Etienne did it in 1975 and 76 and Marseille in 1990 and 91.
If the Parisians can oust City, they will be just the ninth team to make the final in back-to-back campaigns.
PSG have reached the semi-finals of a European competition five times, winning their last three.
While they have never won the Champions League, PSG are only the second French team after Marseille to win a European competition, when they captured the Cup Winners' Cup in 1995-96.
Managers Words
Ahead of Wednesday's match, City manager Pep Guardiola says they need to enjoy this moment rather than thinking about the pressure.
"We know we are going to suffer in both games, and they will have chances," Guardiola said at his pre-match press conference.
"I know the weapons they have. Every person who loves football everyone knows the quality they have. We are not going to deny that. But we are in the semi-final of the Champions League, what do we expect? To play against average players? Of course not.
"I learned from Johan Cruyff, enjoy the game. Enjoy the responsibility. Enjoy the pressure. That is the elite."
Match Info
Wednesday's match from the Parc des Princes will kick off at 8 pm. (JSL).