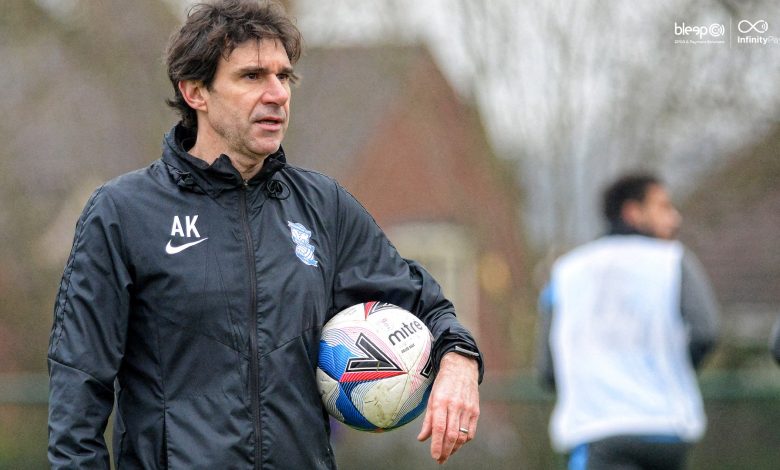 Identity Crisis
 Manchester City begins their FA Cup campaign against a team still trying to find their identity in the Championship League.
Last season Birmingham City stumbled badly finishing in 20th place just two points clear of relegation.
The team looked out of sorts and disorganised under Pep Clotet who left the club back in July to explore other options.
Battening down the hatches
Aitor Karanka took over trying to change the culture and give the team a distinct identity.
The team may have a more specific formation and style but they've yet to execute the Spaniard's system.
Their traditional 4-2-3-1 formation under Karanka emphasizes defensive solidity while relying on quick counterattacks.
As a result, they rarely touch the ball.
Statistically speaking they've only had one game in the Championship this season where they had 60% or more possession.
That's gotten them seven clean sheets but it's rarely given the Blues three points.
They do have some experience to rely on at the back with keeper Neil Etheridge.
The 30-year-old has top-flight experience playing 38 games for Cardiff City in 2018/19.
He was instrumental in Cardiff's promotion to the Premier League the previous season with 19 clean sheets.
Kristian Pedersen and Harlee Dean form the central defence who are very familiar with one another but have lacked consistency.
Middle of the Pitch
 In the middle, the Blues tend to use two defensive midfielders just in front of the back four.
They usually put three attacking midfielders in front of them and a lone striker in the attack.
Closing off that midfield space is key to their success.
With a team like City that loves to pass the ball around in midfield, it will be interesting to see how they can contain perhaps the best playmaker in the world in Kevin De Bruyne.
Lack of Pressure
 Karanka has a strong formula in theory but the team has yet to effectively execute on a consistent basis.
Before the Spaniard arrived, Birmingham had the third-worst goals for-goals against ratio in the Championship at minus 21 in 2019/20.
Nothing's really changed under a new manager and a new system.
In 23 games this season the Blues have a minus 12 ratio in that department, the second-worst in their division.
Karanka's counter-attacking has been struggling all season.
Their shape is quite rigid so their attacking players leave too much space for defences to pass the ball around and build-up play.
When the Blues get the ball, they don't consistently press hard enough to put defences under duress.
With that in mind it's no wonder they have the fifth lowest goals total in the Championship this season with 17.
Players to Watch
 Adam Clayton and Ivan Sunjic could be in for a long afternoon on Sunday.
The two defensive midfielders will be tasked with shutting down a dynamic City midfield who are patient, precise, and work hard in the middle of the pitch.
Matching the work ethic of De Bruyne and Ilkay Gundogan is difficult enough for top-tier teams.
If Karaka's side wants any hope of an upset Sunday though they'll need to be sharp in that area.
Up front Scott Hogan will hope to draw back into the lineup.
If he's healthy he'll relish a chance to play in Manchester, a city he knows well.
The 28-year-old grew up in Salford and played his youth football at Rochdale and has over 50 Premier League matches under his belt.
He's had issues with his health of late but his loan spell last season where he scored nine goals may have saved Birmingham from relegation.
Centre-forward Lukas Jutkiewicz is their biggest scoring threat.
He netted 14 times in the Championship last season and formed a strong partnership with Hogan in a short period of time.
He leads the team with two goals in 21 matches in this current campaign.
Final Take
 Birmingham is likely to hang back and maintain a strong shape and structure.
The question is how effective can that strategy be against a side that relishes in possession.
I wouldn't be surprised to see nine or ten Blues players behind the ball when City are in possession.
It seems hard to fathom how a team that rarely scores could upset the top defensive unit in the Premier League. (JSL).