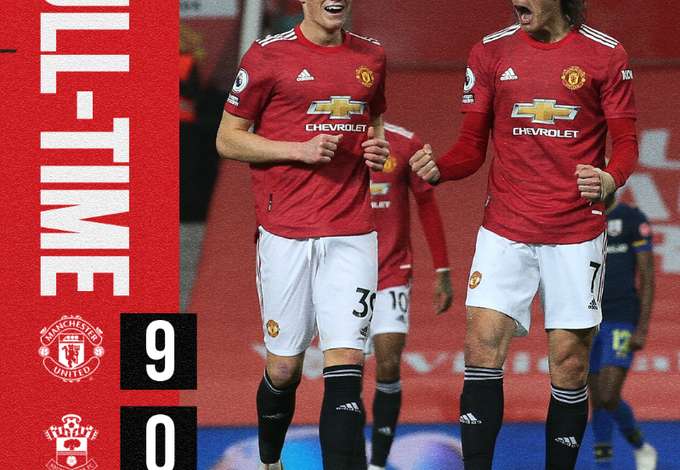 Beat Down
Manchester United is back in the race for the Premier League title following an emphatic 9-0 win over Southampton.
Saints midfielder Alex Jankewitz was dismissed two minutes into the contest for a rash challenge on Scott McTominay.
From that point, United was in the driver's seat having no trouble trouncing a defenceless Southampton side.
It took the Reds 16 minutes after that red card to take advantage.
An excellent feed from Luke Shaw to fellow fullback Aaron Wan-Bissaka whose first-time effort went past McCarthy in the Saints goal.
From there the route was on.
United found a second when Mason Greenwood nodded down a long ball from Harry Maguire in the path of Marcus Rashford.
The United striker made no mistake guiding his shot past McCarthy.
Rashford was a part of the third when his cross in the 34th minute was turned in by Saints defender Jan Bednarek.
Luke Shaw's cross in the 39th minute from the left found an unmarked Edinson Cavani who headed itn the fourth past McCarthy.
Martial got in on the scoring in the second half.
A brilliant through ball by Bruno Fernandes found the Frenchman who chested it and volleyed it in for United's fifth.
McTominay cashed in on some excellent work by Mason Greenwood on 71 minutes.
McCarthy did well to deny Greenwood's effort but the rebound went straight to the Scotsman who finished brilliantly.
Southampton will feel hard done by on 83 minutes.
Anthony Martial fell quickly from a challenge by Jan Bednarek who barely touched him.
Incredibly the ref reviewed the VAR and sent Bednarek off giving United a penalty.
Bruno Fernandes made it seven-nil from the spot but United wasn't done yet.
Martial scored the eighth after chesting down a deflected cross from six yards out and finishing coolly.
Daniel James finished off the scoring one minute from the end after a lovely header from Fernandes found the Welshman who fired it home from close range.
Man of the Match
This is easily the best we've seen Anthony Martial play all season for Man United.
The second half substitute came in with his side four goals up and the game well in hand.
In spite of all that he was lethal in front of goal.
Two shots on target and two goals for the Frenchman who also had 11 touches in the opposition's box.
Although it won't count as an assist his play-acting made an impact as his dive led to a penalty kick goal and a harsh red card on Jan Bednarek.
History Repeats
The 9-0 thumping by United ties a Premier League record for largest margin of victory, a record that went unmatched for 26 years.
Back on March 4 1995, Sir Alex Ferguson's Man United thumped Ipswich Town by the same score.
On that day Andy Cole found the back of the net five times, Mark Hughes got a pair and Roy Keane and Paul Ince each had one.
Emphatic Statement
Ole Gunnar Solskjaer couldn't have asked for a better response from his side who were winless in their last three EPL fixtures before tonight.
United had 76% of the possession and 14 shots on target while allowing just one shot on David de Gea.
The mercy rule was not in effect for the Reds in this one who looked determined to dismantle the shorthanded Saints with every goal.
By far the most dominating performance the Reds have had this season.
United's unbeaten run against the Saints now sits at ten games.
It's also the first time since 2012/13 that United's swept the season series with Southampton.
Kicking you when you're down
Solskjaer's side has been criticized for holding back in recent contests and today they fought back.
It's the first time in almost 10 years that they've won a match by five or more goals.
The moment the Reds gained an advantage with the early red card they poured it on with relentless pressure and didn't stop until the final whistle.
Seven different players scored for United in a game where they could have gone to double digits in goals.
That's more like it
Bruno Fernandes had a marvellous performance in midfield for the Reds.
The Portuguese midfielder came into the match without a goal or assist in five straight Premier League matches.
He was a force to be reckoned with on this night with a goal from the spot and two brilliant assists.
It's precisely what United fans have come to expect from their number 18.
Managers Words
United manager Ole Gunnar Solskjaer says his team made the most of their man advantage early in the match.
"Sometimes a league position can be decided by goal difference, so when they got a man sent off we knew this was a chance to score goals," says Solskjaer.
"Of course, when the game starts like it does, it was always about can you get the first goal? Because you've seen so many examples of 10 men that shut up shop and they get a draw. It was about keeping the tempo high and then just keep on from there."
What it all means?
For the moment United are level with City on points with 44 though City has two games in hand.
The nine goals will help the Reds if the league title comes down to a tiebreaker.
The Red Devils have a goal difference of plus 19 at the moment while City is plus 24.
Southampton meanwhile drop out of the top half of the league standings and into 12th position.
Next Up
United play host to Everton on Saturday from Old Trafford at 8 pm. (JSL).