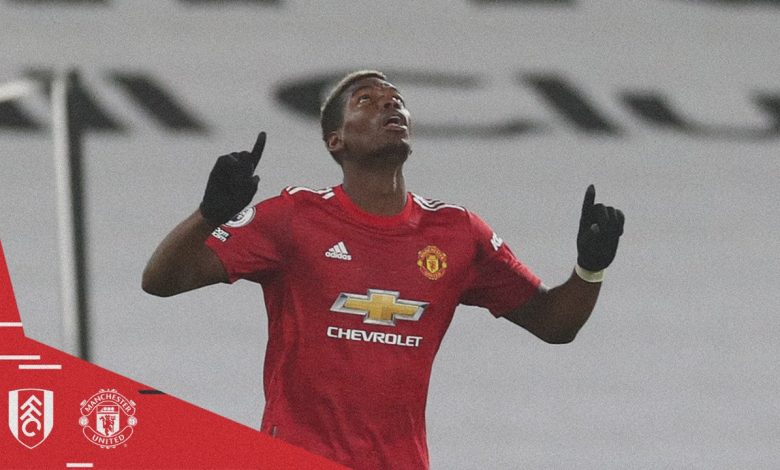 Turning the tide
 It wasn't easy but Manchester United continue to lead the Premier League after beating Fulham 2-1 on Wednesday.
The Red Devils did it the hard way once again coming from behind with goals from Edinson Cavani and Paul Pogba.
They needed something special against a Fulham side that took the lead just five minutes into this game.
United's defence got caught napping as Angussia had acres of space in midfield to clip a wonderful ball through to Lookman who was played onside by Aaron Wan-Bissaka.
With so much time he buried his shot past de Gea into the bottom corner.
United fought back and got the equaliser in the 21st minute.
Some poor goalkeeping by Alphonse Areola who spilled the Fernandes cross right into the path of Cavani for an easy tap in.
In the second half, Paul Pogba's moment of brilliance turned the tide in United's favour.
Just past the hour mark, the Frenchman took one touch inside and from 22 yards out blasted a perfect shot into the top corner.
The Reds were fortunate to not concede late after some anxious moments inside the final five minutes.
Loftus-Cheek got on the end of a nice build-up by the Cottagers but fired his effort from six-yards out over the top.
Mitrovic's header one minute from the end deflected off Bailly and just wide as United barely hung on.
Man of the Match
 If Paul Pogba is truly on his way out at Old Trafford he's left fans with some delightful moments.
The Frenchman's skill was on full display once again tonight as he proved that quality is greater than quantity.
One-shot on target and one goal, his second game-winning goal for United in his last three matches.
More than his goals though he won a majority of his duels in midfield, had vital interceptions and was on point with most of his passing.
Down but never out
 This win not only keeps United in first but it extends their unbeaten run to 13 Premier League matches.
It's the seventh time United's won an away match after trailing this season.
For Fulham, it's the first time they've lost a Premier League match when scoring first under manager Scott Parker.
Manchester United have gained an incredible 21 points from losing positions this season more than any other Premier League side.
Only two teams in Premier League history have won more games in a season when trailing.
In 2001-02 Newcastle won 10 matches when trailing.
The last time United won the Premier League (2012-13) they came back to win nine matches.
It's United's ninth win on the road this season as they remain the only Premier League side unbeaten in that department
Back to the Summit
 It's a vital win for United who were out of first for a few hours following City's 2-0 win over Aston Villa earlier in the day.
At the halfway point of the season, United are on 40 points, just two points above Manchester City.
Cooling off?
 It's only been a few matches but Bruno Fernandes has been uncharacteristically absent from the scoresheet recently.
The Portuguese star has now gone three matches for United without a goal or assist, the longest dry spell since his debut last year for the club.
Manager's Thoughts
 Following the match United manager Ole Gunnar Solskjaer said his team tried to be too cute through much of this game.
"I think we started slow but after their goal we played well. That was what we needed; we needed to wake up. I think we hadn't shaken off the game on Sunday. After we scored, [we were] poor again, trying to be too direct and play Hollywood passes. But then a fantastic goal by Paul. We had some other chances to finish the game, but with a goal in it, it's always going to be heart-in-your-mouth [at the end]."
Next Up
 United won't have much time to rest as they prepare for a tantalizing fourth-round FA Cup tie with Liverpool on Sunday.
The kickoff from Old Trafford goes at 5 pm.
United's next Premier League fixture is next Wednesday night at 8:15 pm from Old Trafford against Sheffield United. (JSL).