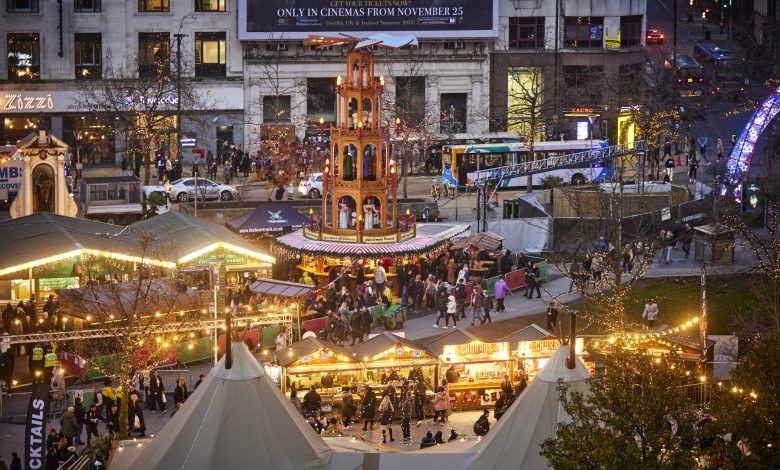 This year marks a special year for the UK's capital of Christmas as it was exactly 25 Christmases ago that Manchester's first-ever Christmas market took place in 1998.
A quarter of a century later the markets continue to attract Mancunians and visitors alike to the city in their thousands to fill up on the fantastic festive treats on offer.
With over 225 stalls across nine sites throughout the city centre this year's Christmas markets will see the iconic ski chalet market stalls take over Piccadilly Gardens – once again set to be transformed into the Winter Gardens – as well as Market Street, Cathedral Gardens, Exchange Street, New Cathedral Street, St Ann's Square, Exchange Square, The Corn Exchange and King Street.
Also back this year is the heart-warming event of the season for young and old alike, the magical Manchester Christmas Parade. Taking place on Sunday 3 December it promises to be bigger and even better than last year's unforgettable first-ever Christmas Parade which saw thousands of families line the city centre streets.
Festive Sundays are also back again this year.  A big hit with families last Christmas they will again fill the city centre with family friendly entertainment pop-ups designed to bring a smile to everyone's faces.  Delivered in partnership with Manchester Business Improvement District they take place on 26 November, 10 December and 17 December.
Making sure the city looks its twinkly and sparkly best in the run-up to Christmas is of course just as important and visitors to the city centre this year won't be disappointed. 
The Manchester Christmas lights trail will be back – perfect for all those crucial Christmas selfies – illuminating the city centre throughout the festive season with giant walk-through baubles, a Manchester bee, and of course Santa Claus himself, keeping a watchful eye on everyone for his naughty or nice lists, from his perch on high in front of Central Library on St Peter's Square.
For those who enjoy a seasonal skate, Skate Manchester's covered ice rink takes up position in Cathedral Gardens where skaters can spin and twirl around a beautiful Christmas tree amid twinkling lights, Christmas songs, and the smell of gingerbread.  
Here's the full rundown of what to expect at Manchester's Christmas Markets this year: 
Winter Gardens 
Piccadilly Gardens will again be transformed into the magical Winter Gardens with a mix of craft and gift stalls alongside food and drink.  The fabulous Scandi style tipi returns, festooned with lights and with its traditional log fires to bring the warmth.  There will be music or live entertainment each night as twilight falls and plenty of undercover seating.  Winter Gardens is also home to the iconic Manchester Christmas Windmill which comes in at a whopping 4 metres high!
Expect winter tipples and exclusive cocktails, alongside fresh churros, Korean corndogs, fresh gyros and plenty of other mouth-watering foodie treats.  
St Ann's Square and Exchange Street
St Ann's Square is the oldest Christmas market site in Manchester and was home to the city's first seasonal stalls 25 years ago.  Check out the Manchester Shop, the continental cheeses, and even alien sculptures as you wander the stalls and take in the festive atmosphere.  Feeling peckish? Try the fresh authentic paella, bratwurst, or salt and pepper chicken from Northern Quarter favourite, Yard and Coop. Or why not just cosy up in the undercover bar with a hot drink to keep you warm.  
Market Street
Get all your Christmas shopping wrapped up on Market Street with its exclusive craft and gift area.  Over 40 stalls full of extraordinary gift ideas – from tweed hats, spiced rum, Christmas decorations and candles, to jewellery, gift sets of cheese truckles and much more.
And if you've spent all year missing the macaroons Market Street is the place to pick up your freshly baked for Manchester coconut macaroons, served hot from the oven.
King Street
King Street is a must-visit for foodies and shoppers alike.
Authentic Italian deli, Ballaro, will be serving up fresh cannelloni and arancini, and El Gato Negro will bring some Mediterranean menu flavours for Christmas shoppers to sit down and enjoy as they watch the crowds go by from the special seated area outside their stall.
Expect also a range of crafts including the always popular French soap stall, personalised tree decorations, handmade wooden furniture and beautifully illustrated bottles from local distillery, Salford Rum. 
New Cathedral Street
New Cathedral is your go-to spot for high end gifts and foodie favourites.
Craft-lovers will be enchanted by the selection of handmade candles, ceramics, local spirits, and thoughtful keepsakes on offer – a must-visit destination for Christmas shopping. 
Savour a cold beer and currywurst from The Witch House, a hearty burrito from Mango Rays, or a cheesy 'Parmo' from local legends, Parmageddon. 
Exchange Square
One of the largest of the city centre Christmas market sites.
Warm up at The Mill Exchange with their Mancunian mulled wine made on site, all while enjoying the legends of Manchester artwork adorning their walls.
This is also the place to try the much-loved legendary Yorkshire pudding wrap from Porky Pig, as well as everything from birria bowls and hot curries to mini pancakes and fresh fudge.
You'll also find clothing, soaps, boutique babywear, local crafts, and handmade gifts.
The Corn Exchange
Set between Corn Exchange and Shambles Square, you'll find some of the most unique gifts available from our crafters.
Expect handmade pies, Nepalese woollen jumpers, handmade jewellery, Christmas decorations made from recycled wood, plus photo frames, artisan chocolates and much more.
Cathedral Gardens
Cathedral Gardens is at the heart of the family fun this festive season.
Experience Skate Manchester's huge, covered ice rink which is open daily  and free live entertainment hosted every Thursday to Sunday all the way up to New Year's Eve. Warm up with authentic crepes, gourmet hotdogs, hot chocolate, and much more. 
Councillor Pat Karney, Manchester City Council's Christmas spokesperson, said: "Christmas is looking even better than ever in Manchester this year, with the opening of our world-famous Christmas markets now only three weeks away and a stocking rammed full of things for all the family to see and enjoy over the festive season, including our magical Manchester Christmas Parade.
"And what a special year for our world-beating markets!  Hard to believe it was exactly 25 Christmases ago that Manchester's first-ever Christmas market took place.
"A quarter of a century later and the markets bring visitors from quite literally all over the world to fill upon the fantastic festive treats on offer. 
"Everyone knows Manchester is the city that Santa loves best and we just can't wait to share all the Christmas fun and festivities with everyone."
Manchester's Christmas markets open on Friday 10 November and close on Thursday 21 December.  
They are open daily at the following times:
All craft stalls 10 am – 8 pm
All bars and food stalls 11 am – 9 pm
Father Christmas will take up residence in St Peter's Square after Remembrance Sunday.
The Ice Rink in Cathedral Gardens will be open for Christmas skaters from 2 November – 2 January, but will also be offering spooky Scare Skates (only if you dare!) from 27 October to 31 October. The food and drink stalls in Cathedral Gardens alongside the skate rink will remain open until 31 December.