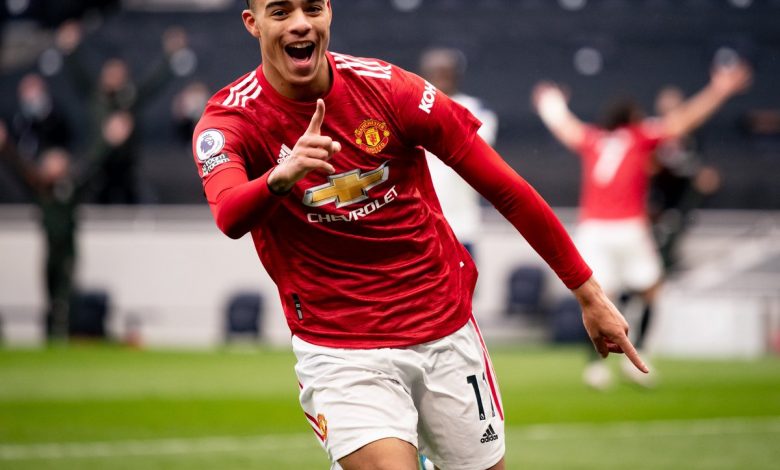 Closing the gap
Manchester United moved a little closer to their rivals Manchester City in the Premier League chase thanks to a 3-1 come from behind victory over Tottenham on Sunday.
Second-half goals from Fred, Edinson Cavani and Mason Greenwood helped cancel out Spurs' opening goal from Son Heung-min.
Ole Gunnar Solskjaer's side is now 11 points behind City in the hunt for the Premier League title with the win.
Match Story
With Man City slipping up yesterday, United knew this was their opportunity to gain some ground in the title chase.
In the 16th minute, Paul Pogba did well to nod a long ball down towards Edinson Cavani, who teed up Marcus Rashford.
The Englishman unleashed a nice drive, but Eric Dier got across in time and deflected the shot wide of the right post.
The Reds thought they had taken the lead in the 36th minute.
Pogba played a lovely ball through to Cavani, who slotted it past Hugo Lloris in the Spurs goals.
The referee Chris Kavanagh however reviewed the play on the pitchside monitor, reversed the decision, and instead called a foul on Scott McTominay.

Four minutes later, it was Son who found the breakthrough for Spurs.
Harry Kane played a lovely ball towards Lucas Moura in the right inside channel.
The Brazilian placed a nice low ball across the face of goal, finding Son, who fired it home from close range past Dean Henderson.
Into the second half, the Reds forced a couple of good saves from Lloris early on.
In the 49th minute, Aaron Wan-Bissaka got in behind Sergio Regulion, latching onto the Bruno Fernandes cross and shooting a first-time volley which Lloris saved and covered the rebound.
Wan-Bissaka gave United a good chance in the 56th minute as well.
The defender collected the Pogba pass down the right flank before offloading to Scott McTominay.
The Scotsman powered a drive towards the goal that Lloris was able to beat away.
The pressure eventually paid off a minute later when the Reds equalised.
Edinson Cavani was clean in on goal versus Lloris.
The Uruguayan's left-footed drive was saved by the Frenchman, but Fred was right there to poke in the rebound.
Dean Henderson was called into action a couple of times in the second half to keep the Reds level.
Serge Aurier bundled his way past Luke Shaw down the left, feeding Son, who fired it on goal on the hour mark, but Henderson did well to get his feet down and save it.
In the 73rd minute, Harry Kane collected an excellent ball from Son, firing a low drive towards the near post that Henderson again got his boot down to make the save.
Those saves would prove invaluable as United took the lead in the 79th minute when Bruno Fernandes sent Mason Greenwood down the right flank.
The United striker bent an excellent cross on his left foot into the middle.
It was flighted perfectly to Cavani, who drifted in between Dier and Aurier before placing his diving header into the bottom-right corner.
Spurs were unlucky not to equalise in the 84th minute.
A corner from Erik Lamela hit the head of Pogba and then Cavani before striking the post.
Son hit the rebound just wide.
The Reds iced the game in the 96th minute after a nice run from Pogba left Reguilon in his wake before finding Mason Greenwood.
The mighty effort from Greenwood was too strong for Lloris as United got their third of the game.
Man of the Match
Edinson Cavani came to the Reds last fall as a depth player to help shoulder some of the scoring load of United's strike force of Martial, Rashford and Greenwood.
Today, the Uruguayan showed like he has all season; he can step up and score big goals when they need it.
Cavani was unlucky to not score in the first half after his goal was controversially disallowed.
However, he answered brilliantly with 11 minutes remaining to give United all three points.
He played an integral part in United's equaliser and gave the Spurs defence all they could handle.
On a road roll
Sunday's victory keeps United's impressive unbeaten run away from home intact.
It's their 23rd straight Premier League match on the road without a defeat, the second-longest streak in the competition's history.
Only Arsenal, who didn't lose in 27 EPL matches between April 2003 and September 2004, has had a longer unbeaten run away from home.
Unusual 
It's rare to see a team managed by Jose Mourinho lose so often in one season.
This was the 10th loss of this campaign for Tottenham, dropping them into seventh place.
It's the first time Mourinho has lost this many league games in his entire managerial career.
The Portuguese manager hasn't exactly had much luck with his foes either.
Mourinho is winless in his last five home matches in all competitions against sides he's previously managed.
Doing it the hard way
Man United's win followed a familiar trend for the Reds this season.
The Red Devils have won a total of 96 Premier League games after conceding the first goal.
That's the most of any Premier League side, eight more than Spurs (88), who are second.
While United is at their best when trailing, Spurs appear to be at their worst when they're ahead.
Tottenham have dropped 18 points from winning positions in the Premier League this season.
That's second to only Brighton, who've lost 20 points when leading.
It's also the most points any Jose Mourinho team has dropped from winning positions in a single EPL campaign.
Managers Words
Man United manager Ole Gunnar Solskjaer said afterwards that his team reacted well after Cavani's first-half goal was controversially disallowed.
"I have to say if my Son stays down like this for three minutes and gets ten of his mates around him… if he gets that in the face from one of his other mates and he needs ten of his mates to help him up, he won't get any food.
"It was an absolutely top reaction after that. We played some great stuff in the second half, but after they scored, we feel the injustice there, and the adversity into our players heads and good character showed that we had to come back from it. We cannot let those decisions ruin a good season for us."
Spurs boss Jose Mourinho was none too pleased with Solskjaer's comments about his star striker.
"Let me tell you something. I am very, very surprised that after the comments that Ole made on Sonny, you don't ask me about it. And I told Ole already this because I met him just a few minutes ago. If it's me, telling that player A B or C from another club, "If it was my son, I wouldn't give him dinner tonight," or something like that, what would be the reaction?"
Next Up
Man United will now prepare to face Granada in the second leg of their Europa League quarter-final on Thursday.
The kickoff from Old Trafford is at 8 pm.
Their next Premier League match will be next Sunday against Burnley at 4 pm from Old Trafford. (JSL).