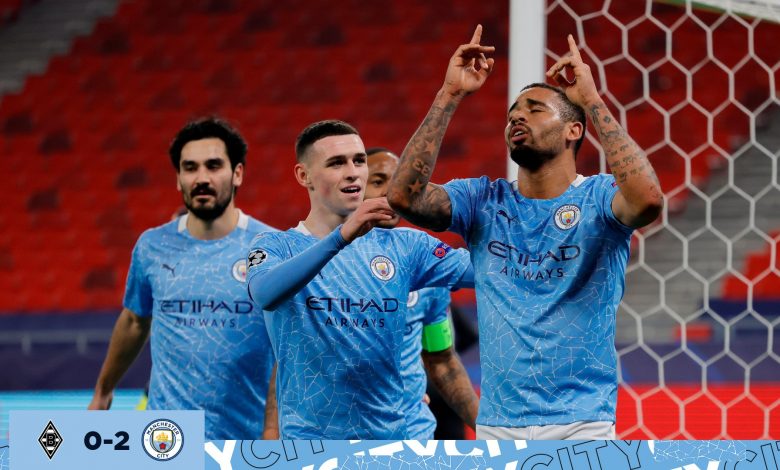 On the right foot
Manchester City picked up their Champions League campaign where it left off last year, with a comfortable win 2-0 over Borussia Monchengladbach from Puskas Arena in Budapest.

Bernardo Silva and Gabriel Jesus scored to give City another comfortable win, their 19th straight in all competitions.
Game Story
Both teams played it cagey early on as they got a feel for each other out there.
The first chance came 15 minutes in when City got the ball in the box, but Gabriel Jesus couldn't get a shot away in the scramble.
A few minutes later, Gladbach caught the Citizens with a nice counter but couldn't get a shot away.
Raheem Sterling did some excellent work in the box on 27 minutes, but Ramy Bensebaini recovered nicely to get the slightest touch on the ball and clear the danger.
Just before the half-hour mark, City got the goal they craved.
A great ball into the box by Joao Cancelo as his cross went beyond a couple of Gladbach defenders to Bernardo Silva, who just had to head it on target to give City the lead.
City cruised with that lead into the half.
Guardiola's men should've made it two-nil in the 54th minute.
Bensebaini gave the ball away to Gabriel Jesus, who took too long thinking about what to do with the chance. That hesitation cost him as Matthias Ginter got back to block to Brazilian's effort.
On the hour mark, the Germans had a great chance to equalise.
Denis Zakaria did well to intercept the ball in City's half, but unlike Jesus earlier, he had more time than he thought. He hurried his through ball, which was out of Alassane Plea's reach.
The two combined well two minutes later as Zakaria played a lovely cross in the box for Plea, who cleverly backheeled it just wide of Ederson's goal.
City got an insurance goal in the 65th minute.
Cancelo again led the charge with a brilliant cross toward to right post. Bernardo Silva cleverly nodded back across goal to Gabriel Jesus, who buried it into the empty net.
From their City was on cruise control with Ederson rarely being troubled.
City nearly conceded right at the end, though.
A horrible pass back by Rodri sent Hannes Wolf in all alone, but Ederson came out to make a brilliant save and preserve the shutout.
Man of the Match
Fullback Joao Cancelo rarely grabs the headlines, but it's safe to say he's been an unsung hero for the team during their current run.
Tonight, the Portuguese was the catalyst for both City goals with two pinpoint crosses into the box.
His creativity, positional play, vision and touches are genuinely a joy to watch and made the difference again on this night.
Another record broken
I sound like a broken record when I say it, but Pep Guardiola's side has set a new record once again.
With their 12th victory away from home Man City have set a new top-flight English record.
That moves the Sky Blues' current edition past the 2017 team, which held the previous mark.
The winning run for City now stretches to 19 in all competitions, and they're unbeaten in all competitions in their last 26 fixtures.
Mr Clean
Solving Ederson in the Man City goal is proving to be quite the chore for opposing teams in England and Europe.
As usual, the Sky Blues number one had little to do facing only two shots, but he's always there when called upon.
Tonight, he made a critical save right at the end on a breakaway by Hannes Wolf.
Maybe Rodri felt terrible for his keeper tonight and wanted to give him something to do for a change. His giveaway in injury time was the clumsiest thing we've seen from City's defence in months.
Once again, though, Ederson was there to make what could be a critical save as City maintain a two-goal cushion heading home.
Ederson now has 20 clean sheets this season and has conceded just once in the Champions League.
Back in the fold
Man City's record goalscorer saw the field for the first time in a while.
Sergio Aguero came on as a substitute for Gabriel Jesus with 10 minutes to play.
The Argentine's made his first appearance for the Sky Blues since coming on as a substitute January 3 against Chelsea.
Aguero's been absent most of the season, recovering from COVID and knee and hamstring injuries.
Five for Five
Gabriel Jesus has had his struggles this season, but the Champions League seems to bring out the very best in him.
The Brazilian striker now has five goals in five Champions League appearances this season.
Century Mark
Man City defender Aymeric Laporte celebrated a milestone Wednesday.
The French centre-back made his 100th appearance for the Citizens in all competitions.
Since joining Guardiola's side from Athletic Bilbao in early 2018, he's been a big part of the defence with strong tackling and vital interceptions.
Managers Words
Despite the win, City manager Pep Guardiola says they need to put away their chances.
"In general, we controlled the game. Unfortunately, today we were not clinical enough upfront.
"That is something we have to improve in this competition. Upfront, we have to be more clinical. In this competition, you have to be perfect to make sure you go through."
What does it mean?
Pep Guardiola's side is inching closer to the quarter-finals which is a good sign for City fans.

Man City has progressed from all four of their previous two-leg Champions League knockout ties.
Die Fohlen need a two-goal win to even things up in leg two. Any three-goal win for them will put them through on aggregate.
Next Up
City's next action is Saturday in the Premier League when they host West Ham.
The game time from the Etihad is 12:30 pm.
The second leg of this Champions League tie occurs on Tuesday, March 16, at the Etihad at 9 pm. (JSL).