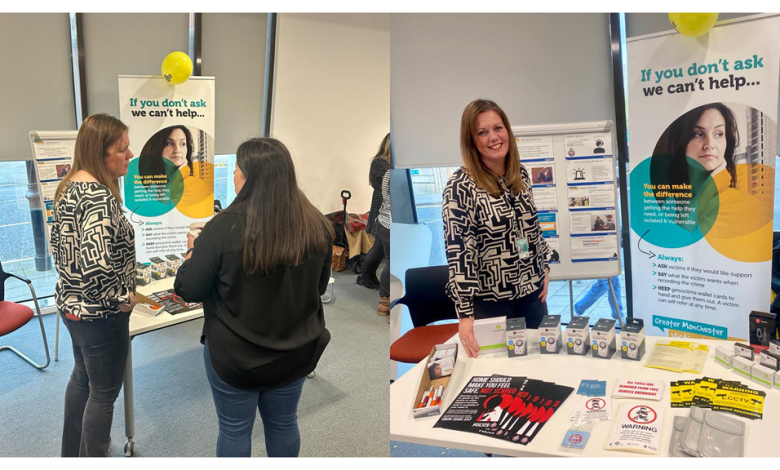 Every year, over two million people in the UK experience domestic abuse, with it taking an average 30 incidents before victims of DA will call the police – so ensuring victims' experiences with the police are dealt with efficiently and empathetically is crucial.
Greater Manchester Police is committed to tackling domestic abuse and violence. Nobody should have to be subjected to any form of abuse.
On Tuesday 6 December 2022, GMP's victim's services attended an event at Stockport Homes ran by Stockport Council to provide advice and support on domestic abuse. Victim's services also were able to provide crime prevention information to those at the event and shared knowledge with organisations at the event.
The event was attended by a number of organisations (see list below) across Stockport who are all passionate on supporting those suffering with domestic abuse or those who have been a victim of domestic abuse, as well as educating people on how they can support victims.
Detective Superintendent Matthew Findell of GMP's Stockport division said: "Greater Manchester Police's ultimate goal is to educate and inform members of the public what exactly domestic abuse is and provide the support and services to those who need it and give people the confidence to report any form of abuse to us.
"We want everyone to feel able to come forward and talk about their experiences and we want to help get people get the help they need. The more we are able to talk about domestic abuse, the more we can help people in danger and keep them safe.
"GMP Stockport is immensely proud of all our partners and voluntary support services in helping reduce the blight in our communities of domestic abuse and violence against women and girls.
"We will continue to work closely with all of our partners and Stockport Council to support victims and those at risk and tackle those who are responsible, ultimately achieving justice for victims of domestic abuse."
If you want to report abuse or have witnessed abuse, report it.
You can report by calling 101, 999 in an emergency or report online via our website.
Alternatively, you can report information anonymously to the independent charity Crimestoppers on 0800 555 111.