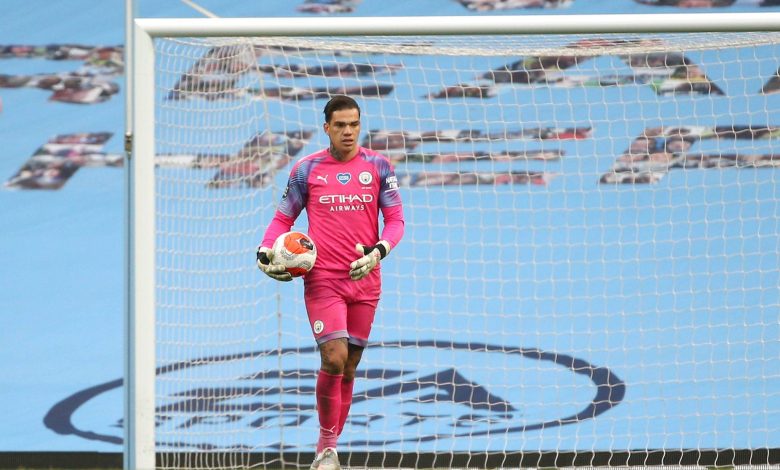 Double-Duty?
Manchester City may be looking to an unlikely source to solve its issues from the penalty spot.
Manager Pep Guardiola recently mentioned goalkeeper Ederson could be an option to take penalties in the future.
The Brazilian has done his part in goal with 13 clean sheets to lead all keepers in the Premier League this season.
With no replays in the FA Cup, it's not out of the realm of possibilities we'll see penalties tomorrow when City face Swansea in the fifth round.
Guardiola talked about what you need in order to be successful from the spot.
"A penalty taker has to be the personality with huge confidence in himself," says Guardiola.
"We will see tomorrow [away to Swansea] – it depends on the lineup. But he is an option because I am pretty sure he's a good taker."
Penalty Problems
One flaw in an otherwise flawless couple of months for Man City is their struggles from the penalty spot.
Since the start of last season, the Sky Blues have missed nine penalties.
Ilkay Gundogan's awful miss Sunday against Liverpool was just the latest in what's been a tough nut for City to crack.
That miss meant little in the grand scheme of things, but with aspirations of winning a quadruple this season, it's an area they'll want to correct.
City's in contention to win the Premier League, Champions League, Carabao Cup and FA Cup all this season.
Several City players have auditioned for the role of penalty taker, but no one's been able to seize the opportunity.
Kevin De Bruyne, Raheem Sterling and now Ilkay Gundogan have all missed efforts from 12 yards out.
Sergio Aguero did score from the spot in the Champions League round-robin stage, but it's unclear when he'll be 100% fit even to feature.
Following City's win at Anfield Sunday Guardiola said the prospect of the keeper taking a penalty was just a "half-joke" which could become a reality.
"He has to save them also, then after we see what happens," said Guardiola. "It depends on the players. Sergio [Aguero] 's not fit, Kevin [De Bruyne] 's an incredibly good taker but is unfortunately not fit yet."
This development could add a lot of intrigue to Wednesday's match.
All season Guardiola has turned to Zack Steffen in goal for cup ties will that trend continue tomorrow?
If the game goes to extra-time could we see Ederson enter the match just before a penalty shootout?
In November Ederson joked that he's the best penalty taker but never chosen.
Early in his career, the Brazilian was in charge of dead-ball situations for his Portuguese side Ribeirao.
Last season Man City missed six of its 16 penalties. (JSL).