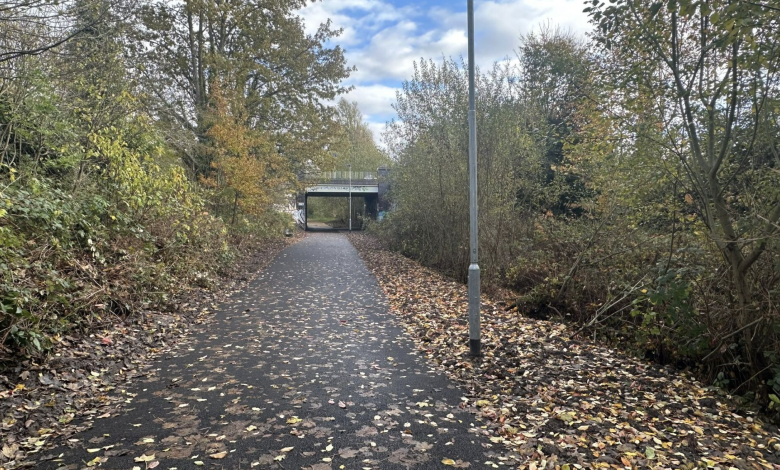 Recognised as a priority following discussions with local residents, schools and businesses, work has been carried out to resurface a section of the cycle lane at St Werburgh's Road tram stop as well as the section near the Shillington Road entrance in Levenshulme.
Works have also taken place to install improved lighting at St Werburgh's Road to enhance safety and visibility for cyclists at night. Lighting columns now use energy efficient LEDs which will minimise the impact caused to local wildlife, whilst ensuring that people are able to travel safely.
As part of its work with Sustrans – the national walking, wheeling and cycling charity which owns the Fallowfield Loop – a plan is in place to roll out additional improvements at another 26 entry points along the Fallowfield Loop. These measures will ensure that the cycleway is accessible for everyone, whether they walk, wheel or cycle. Improvements will also be made to the fences, guard rails and barriers, as well as vegetation clearance to ensure access to the loop can be maintained.
During the autumn an exciting community cycling event will take place along the Fallowfield Loop – Lights Up: Reclaim the Darkness, Ride Together. The event is free, just follow this link for tickets.
As part of the Council's ongoing commitment to cutting its carbon emissions, this piece of work will play a vital part in encouraging more people into using active modes of transport. This in turn will support the Council's goal of making Manchester a zero-carbon city by 2038.
Councillor Tracey Rawlins, Executive Member for Environment and Highways, said: "Working with our partners we are pleased that further improvements across the Fallowfield Loop have been completed.
"More than ever it is important that we make walking, wheeling and cycling accessible to everyone. We know that there are many barriers for people wanting to live a more active life, which is why it's vital routes such as the Fallowfield Loop are maintained."
Rosslyn Colderley, Director for Sustrans in the North of England said: "We're delighted to have worked with Manchester City Council to open up the access points along the Fallowfield Loop. These are now open for everyone, whether they're using a wheelchair, mobility scooter, bicycle or a double buggy. Lighting this section of the Loop will also help many more people, particularly school children, continue to travel actively throughout the year, and we hope to extend this further as funding allows.
"We are working with partners across the National Cycle Network to create safe, high-quality and connected routes which make it easier for people of all ages and abilities to leave the car at home and choose healthier, happier and more environmental forms of transport."
Dame Sarah Storey, Active Travel Commissioner for Greater Manchester, visited the Fallowfield Loop last week to see some of the improvements that have been made, and learn more about those in the pipeline.
She said: "Our vision for Greater Manchester is to be a place where it's easy, comfortable and safe for people to walk wheel or cycle where they want to get to – that means creating a lot of new, safer on-road routes, and quieter neighbourhoods, as part of our emerging Bee Network.
"But it is also important to people that we enhance what we already have and make it easier and safer to use and access our leisure routes and green spaces too.
"The Fallowfield loop is a fantastic example – and I was delighted to be able to recently visit and talk to some pupils from a primary school on the route, who will also soon be benefitting from some of this work by Manchester City Council and partners. The children I met all told me how much they loved walking and cycling to school – they loved the fresh air and being with their friends – and it was a good to be reminded by those youngsters that it's also more fun."