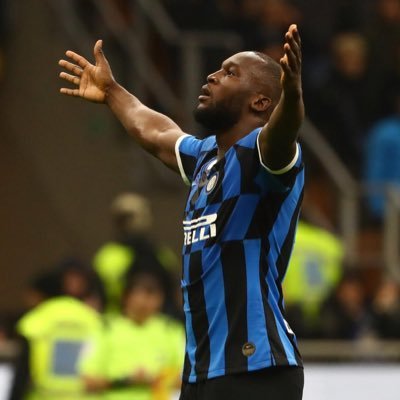 Poaching goals
Manchester City is reportedly in the hunt to land a prolific goalscorer this summer.
The online sports journal The Athletic says Inter striker Romelu Lukaku in on City's shortlist to recruit during the upcoming off-season.
Once a bitter enemy of City during his days at Manchester United the 27-year-old has regained his scoring touch since leaving Old Trafford.
Rejuvenated
Since signing for Serie A giants, Inter Milan Lukaku's turned around his fortunes.

In a short 18-month span in Italy, Lukaku has 56 goals in all competitions in 80 appearances.
After a cloudy end to his United career where he claimed to be a scapegoat for the club's failures, the clouds seem to have parted for the man from Antwerp.
The Belgian led his team last season with 23 goals in 36 Serie A appearances. He's got 15 more in 20 appearances in their current campaign.
Where he fits in
There's no doubt Lukaku would address a significant gap in City's attack the question is how much help can he provide?

Despite Sergio Aguero missing most of this campaign through injuries and illness, it's barely affected the team's play. However, the record goalscorer is a free agent this summer, and the Argentine who will be 33 in June is unlikely to get re-signed.
Lukaku is a natural number nine striker something City's lacked all season.
As good as he's been recently he doesn't exactly fit into the kind of system Pep Guardiola employs.
The Catalan is very much about technique and patience stringing together hundreds of passes throughout a 90-minute affair.
There would be some familiarity with his countryman Kevin De Bruyne though that makes this prospect intriguing.
Lukaku has always thrived under a straightforward approach to attacking. Does City want him bad enough to play more direct? Will money sway Lukaku away from the good thing he has going right now at the San Siro?
Heavy Price
If City's hierarchy is serious about poaching Lukaku, they'll need to jump through some hoops to get him here.
Currently, he's under contract with Inter until 2024, and his stock is very high at the moment. If Inter parts ways with him, City will need to offer at least the same amount as the Italians paid for him (£74m) if not more.
Dumping Sergio Aguero and Eric Garcia could free up some space to sign him but will that be enough?
It's not as if Lukaku is the only big-name striker reportedly on the move.
United's Edinson Cavani, Barcelona's Lionel Messi and Lyon's Memphis Depay are just a few players soon to be on the market.
The difference is City wouldn't have to compensate any of those teams this summer. Don't expect Inter to be as generous with City's front office.

Another name in the conversation is Borussia Dortmund's Erling Haaland.
The Norwegian striker is under contract with the German side until 2024. However, there's a reported clause in the £66m deal which comes into effect in the summer of 2022.
Does Guardiola need to fix something which at the moment isn't broke? (JSL).