Football
Manchester United
Carbon Copy Victory
Man United advance to the Europa League semi-finals with a 2-0 win over Granada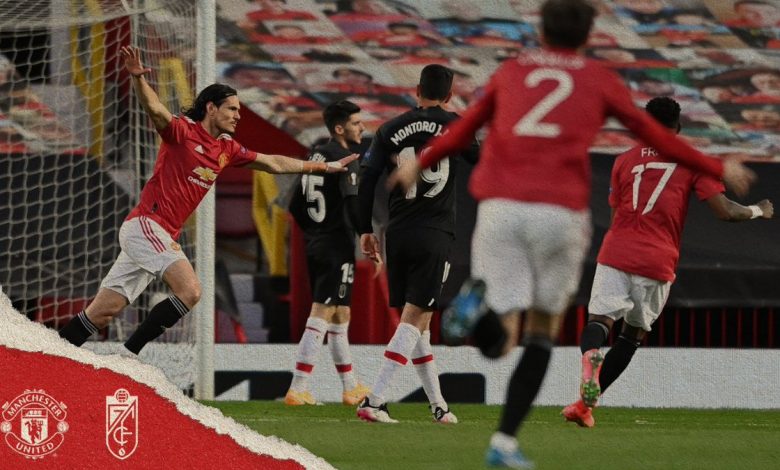 Deja Vu
Grasping a trophy is within touching distance for Manchester United after they defeated Granada 2-0 on Thursday to advance to the Europa League semi-finals for a second consecutive season.
An early goal from Edinson Cavani and a late own-goal by Jesus Vallejo gave United the win tonight from Old Trafford and a 4-0 aggregate victory against the Spanish side.
It will be the fifth time the Reds have reached this stage of a major competition in Europe or domestically since 2019-20.
It's a hurdle they have yet to clear over the past two seasons.
Game Story
Granada came into this match in a huge hole, down two goals following the opening leg and in need of at least a two-goal victory to have any hopes of advancing.
Quickly though, United seemingly put any hopes of a comeback to bed when they went in front six minutes into the game.
A nicely floated cross from Alex Telles was met well by Paul Pogba, who guided it towards Cavani who was unmarked.
The Uruguayan made no mistake firing a supreme first-time volley into the bottom-right corner to put United ahead.
Granada came close to levelling the match a minute later, however.
A pinpoint cross from Angel Montoro was met well by Yangel Herrera, but his header just glanced wide of David de Gea's goal.
The Spaniards threw everything they could at United in the first half, but Ole Gunnar Solskjaer's side handled them quite well.
Montoro created an excellent chance again in the 20th minute.
 His cross found Herrera, but once again, the midfielder's header went just wide.

Granada had another good opportunity in the 49th minute.
Dimitri Foulquier made a nice run down the right flank, delivering a great cross to the back post.
Substitute Jorge Molina got on the end of it but only made minimal contact with the ball as it took a deflection off Aaron Wan-Bissaka before de Gea covered it up.
In the 56th minute, Cavani had a chance to score a second.
Unfortunately, the ex-PSG striker glanced his header just wide of the left post.
Substitute Donny van de Beek came close to scoring on the hour mark with the match well in hand.
The Dutchman latched onto a loose ball following an excellent run forward from Mason Greenwood.
His effort, however, creeped just wide of the target.
Diego Martinez's side missed a good opportunity six minutes later.
A Montoro free-kick into the box found German Sanchez.
The skipper turned and shot on his left foot, but his effort went wide.
That's as close as Los Nazaries would come to scoring, although they inadvertently gave the Reds an extra boost in the late stages.
A friendly run down the wing from Telles who delivered a lovely cross towards Juan Mata.
The Spaniard's header hit Jesus Vallejo and went in to give United another 2-0 victory.
Man of the Match
They say that age is only a number, and Edinson Cavani has proven that this season.
With Anthony Martial likely out for the season and Marcus Rashford injured, Cavani has stepped up to fill that void.

He's scored the winning goals in the past two competitive fixtures for his team.
At 34 he's shown he can still make a difference.
Slumping at the wrong time
A football season is long and demanding, and peaking at the right time is paramount.
After a fairy tale run in this competition for Granada, which began with early qualifiers in September, the Spanish side picked a lousy time to start struggling.
Consistency got them to this point of the competition, losing just twice in their first nine matches.
Unfortunately they have lacked consistency lately, and that cost them tonight.
This was their third consecutive defeat in the Europa League, which included a loss to Molde in the previous round.
Starting to come together
While their opponents peaked at the wrong time, it's safe to say the Red Devils are peaking at precisely the right time in this competition.
United have won their last three matches in the Europa League, maintaining a clean sheet in each of those encounters.
It's the first time since 2008 that the Reds have kept three successive shutouts in European matches.
Home Field Advantage
Old Trafford has been anything but an advantage for Man United in the Premier League this season, but it's an entirely different story in the Europa League.
Since losing two home games in this tournament back in 2011-12, the Reds haven't lost any of the following 17 Europa League matches played at Old Trafford.
Familiar Feeling
Seeing Man United reach this stage of the competition is like another day at the office.
It'll be the 18th semi-final they've reached (including Fairs Cup).
Only Liverpool (19) have made more final four appearances in any competition by an English side.
Managers Words
Despite winning their quarter-final tie 4-0, United manager, Ole Gunnar Solskjaer says it was a physically exhausting two legs for his team.
"Granada, do give you a game. It's a physical game; they throw people forward. You have to defend in these kind of games. But it's good to win 2-0, get a clean sheet, and there were some good individual performances. We're full of confidence going into Sunday [against Burnley]."
Next Up
With their rivals Manchester City playing an FA Cup semi-final this weekend, United can gain some more ground on the Sky Blues in the Premier League table.
The Reds take on Burnley on Sunday from Old Trafford at 4 pm.
They will face AS Roma in the semi-finals of the Europa League.
The first leg will be played at Old Trafford on April 29, with the return leg set for May 6 from Stadio Olimpico. (JSL).