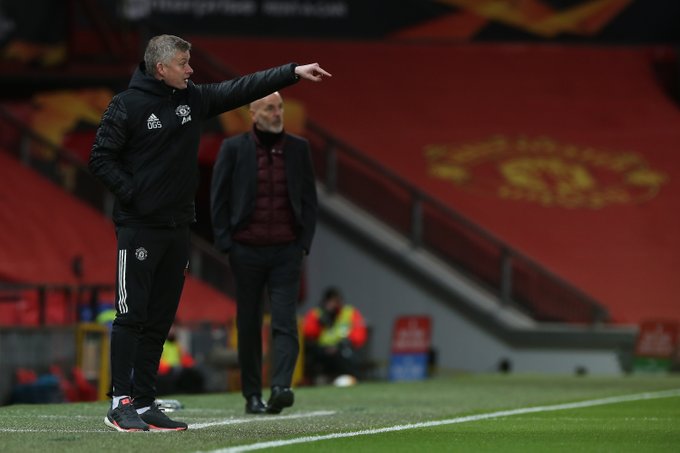 Pivotal Match
Manchester United's dream of another Europa League title will be put to the test Thursday as they face AC Milan in the second leg of that round of 16 battle.
An injury-time goal from Simon Kjaer gave the Rossoneri a 1-1 draw at Old Trafford last week.
Lineup News
 Paul Pogba and Donny van de Beek are available, having both recovered from injuries, but Edinson Cavani is out.
 Pogba hasn't played since February 6 but was United's Player of the Month in January.
 Eric Bailly remains out while Phil Jones continues to nurse a knee injury and is on the long-term absentee list.
 Anthony Martial who missed last weekend's match with West Ham is out, having not travelled to Italy.
His absence could mean teenager Amad Diallo earns his first start with the senior side. The Ivorian got his first goal in the senior squad in the opening leg last week.
 David de Gea is out of isolation after returning from Spain to see the birth of his daughter.
 Dean Henderson, though, has started every match United's played this season outside of the Premier League, and we can expect that trend to continue.
Zlatan Ibrahimovic is healthy and could provide a big boost for his side in this one.

The Swede missed last week's game with an adductor muscle injury.
 Stefano Piloi will have Hakan Calhanoglu and Theo Hernandez back in the mix.
 Ante Rebic was sent off last weekend in Milan's 1-0 defeat against Napoli, but his suspension is just for the domestic league, meaning he's available for selection on Thursday.
 Rafael Leao is a significant doubt with a thigh injury, while Alessio Romagnoli and David Calabria will need to pass fitness tests.
 Ismael Bennacer is available for Pioli as well.
 

Exercising the demons
 Manchester United's been at their best this season away from home, but the San Siro has not been kind to them in the past.
 The Reds have lost four of their five games played in Milan in their history but did win 3-2 the last time out in 2010.
 That's the only time they've ever scored at the San Siro against the Rossoneri in all five of their visits. Milan has outscored United at home 12-3.
 The Reds are the only Premier League side to not lose on the road in this domestic campaign and haven't lost a Premier League fixture away from home in their last 22.
 In the Champions League and Europa League, they've suffered two defeats in nine matches this season.
 While AC Milan's been able to keep the Reds at bay in all but one of their last home games against them, this edition of the Rossoneri is anything but solid at the back.
 In nine Europa League matches at the San Siro this season (including qualifiers), Milan has only kept one clean sheet.
 That's good news for United, who will need to score at least once on Thursday to have any hope of advancing.
 

Getting off on the wrong foot
 One statistic that does not bode well for Ole Gunnar Solskjaer's side is their inability to rally from a deficit in a European match when trailing.
 Yes, the first leg was a draw, but Milan is technically in front on away goals.
 When failing to win the first leg at home, Man United has been eliminated from six of their last eight European competition ties. That includes one against AC Milan in the 2004-05 Champions League.
 

The Midas Touch
 Since arriving at Old Trafford just over a year ago, virtually every time Bruno Fernandes touches the ball, it's golden.
 That's especially the case for the Portuguese in this competition.
 Fernandes has seven goals in his last seven away games in the Europa League since his Europa League debut with Sporting Lisbon in November 2018.
 No player has scored more away goals than Fernandes in this competition in that period. Yusuf Yazici is the only other player to score seven times in this competition in that period.
 Fernandes will undoubtedly be counted on again to help the Reds into the last eight of this competition.
 

Managers Words
 United boss Ole Gunnar Solskjaer says he expects Thursdays match to be a tough grind.
 "Well, we saw the game last week and how difficult it was. [They're] a physical side with loads of energy, good quality in the team. We need to perform at our best levels, and we know that. Tomorrow night is going to be about loads of things: you need the quality, you need the experience, you need the game management and a good start. Being away from home, I always enjoy being away from home in the second leg because if you score a goal, it means so much. We know now that they scored one, so we need to score at least one to go through."
 

Match Info
 Thursday's match from the San Siro goes at 8 pm. (JSL).