Stockport
Twelve months on: Progress continues at Stockport interchange mixed-use development site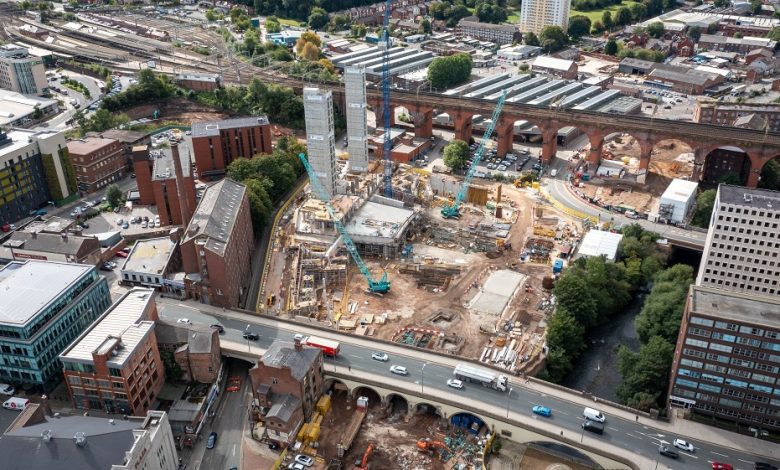 The project, which will also see the construction of a new two-acre park and 196 high-quality residential apartments, got underway on 29 August 2021.
Since then the old bus station has been demolished, the site has been cleared, groundworks have been completed and the new building's distinct oval outline is beginning to take shape.
The project, which represents part of a major £1bn investment in Stockport town centre, is being delivered by Transport for Greater Manchester (TfGM), Stockport Council, and Greater Manchester Combined Authority (GMCA), in conjunction with building contractor, Willmott Dixon Construction Ltd, and Residential development partner, CityRise.
Mayor of Greater Manchester, Andy Burnham, said: "It is incredible to see the progress at the Stockport interchange development so far, whether that's passing through on the train over the viaduct or attending meetings in Stockport town centre.
"It's already coming together and once complete will become an iconic feature of Stockport town centre, making Stockport a better-connected place for all, creating new homes, integrated transport and green space."
The Stockport interchange development forms a core part of the Town Centre West regeneration district, a 130-acre site that will see new housing, leisure, workspace and amenities delivered, alongside these major transport and infrastructure improvements.
The Town Centre West transformation plans are being delivered by the Stockport Mayoral Development Corporation (MDC), working alongside public and private sector partners, including Transport for Greater Manchester (TfGM) and Homes England.
Cllr Mark Hunter, Leader of Stockport Council, said: "I'm delighted with the progress underway at the Interchange site, which will see us create a state-of-the-art transport hub for the borough and further boost the ongoing revitalisation of the town centre.
"The new hub will encourage the use of sustainable transport, provide quality new homes and a new town centre park for residents and visitors to spend time in and enjoy."
Following the demolition of the old bus station and site clearance, construction got underway in early 2022 and to date there has been over 5,000m3 of concrete poured on site, creating the piled foundations and some of the stairs, lift cores and frames for both the interchange and residential buildings.
Work also got underway over the summer to form the bridge section linking the train station to the park and interchange areas and some of the columns set to support the new town centre park have also begun to emerge into the sky.
Lord Kerslake Chairman of Stockport MDC said: "It is great to see the progress that has been made to Stockport Interchange, a major redevelopment within Stockport MDC's Town Centre West regeneration area. When it completes, Stockport Interchange will set a new standard for town centre transport hubs. By transforming the old bus station, the Interchange is able to deliver a new park for the town, implement new active travel links, create new homes, and will re-connect the area to the railway station and the town's new commercial hub at Stockport Exchange.
"It is this innovative approach to placemaking, that makes Town Centre West one of the most exciting regeneration masterplans currently being delivered in the UK, and will see Stockport become one of the most sustainable, connected and liveable town centres in Greater Manchester."
Building contractor, Wilmott Dixon, have re-used 74% of excavated material, significantly reducing demand for natural resources. The team will also be reusing 29,847m3 of site materials, meaning no additional soils or aggregates will need to be imported to site. This also cuts many of the transport related impacts of importing materials.
Anthony Dillon, Managing Director for Willmott Dixon in the North, said: "We're proud to be playing our part in shaping the future of Stockport town centre and creating a transformational new gateway for local people. The exciting progress on site continues at pace and yet the project's impact will be even more far reaching; it will leave a legacy of investment, skills and opportunities in Stockport."
Willmott Dixon recently held its first Building Lives Academy programme on site, working alongside Groundwork Greater Manchester's Stockport sustainable futures construction programme, to create work experience opportunities for local people aged between 18-25 who are not in education, employment or training (NEET). Its wider commitments include working alongside supply chain partners in Stockport to create 40 local jobs and upskilling a new generation.
As part of the next phase of development works, foundations will continue around the interchange to support columns above ground level and floor construction and decking levels are being formed for the residential element.
Due to open in 2024, the transport interchange will incorporate a modern, fully accessible and covered passenger concourse with seated waiting areas, and 18 bus stands, providing capacity for future growth in bus services.
A major feature of the scheme is the two-acre rooftop park which will improve leisure and recreation opportunities in the town centre and create more green space for everyone to enjoy. As part of the wider Bee Network vision, there will also be new cycling and walking routes connecting the bus interchange to the train station, as well as to the Trans Pennine Trail and town centre.
196 high quality apartments are also being built by residential partner CityRise, providing new homes in the heart of the town centre and helping to tackle the need for future housing.