Stockport
Six arrests and £80,000 of illegal vapes seized in Stockport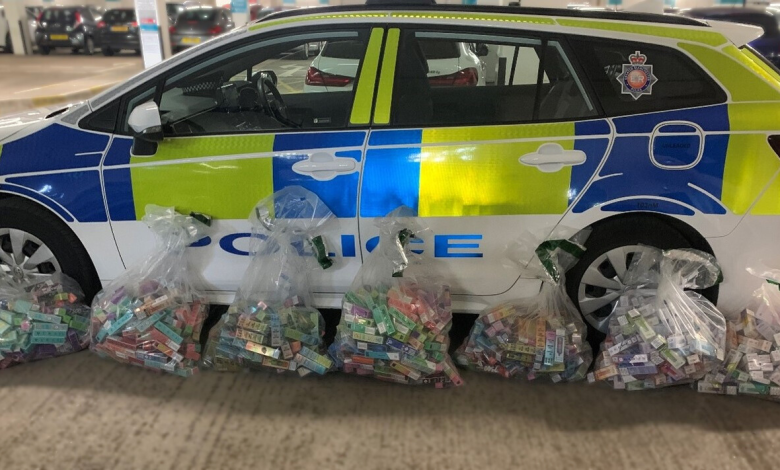 This comes after the government launched a consultation on single use, disposable vapes on Thursday, 12 October.
Council officers visited a number of premises in Stockport town centre and Edgeley on Thursday 21 September, and seized the vapes from three, which contained more than the legal limit of liquid in the chamber, with some also showing incorrect health warnings. The following week, Trading Standards worked again with GMP officers, this time from Stockport's West Neighbourhood Policing Team, and seized hundreds more illegal vapes from one shop.
On the Stockport Town Centre and Edgeley day of action police also carried out 14 stop-searches, with arrests made for offences including burglary, theft, possession of a bladed article and breaching court orders.
The day of action was in response to concerns from the local community. This joint operation took place around the Peel Centre, Merseyway, St Petersgate and Edgeley as part of Operation Rimini, a dedicated response to tackling reports of offences in Stockport town centre including theft, shoplifting and anti-social behaviour.
Councillor Frankie Singleton, Cabinet Member for Communities, Culture & Sport, said: "There is no place for unscrupulous vape sellers in Stockport. Unregulated vapes are deliberately and dangerously targeted at young people, damaging their health. Whilst the move away from smoking tobacco cigarettes by our youngsters is welcome news, there is clearly a new challenge with preventing their access to vapes.
"The seizures by our Trading Standards team, with our GMP partners, of such a high number of illegal, single use, brightly coloured and fruity flavoured vapes indicates the scale of the problem. High capacity vapes which include more than 2ml of liquid or deliver more than 600 puffs cannot be sold in this country and we are totally committed to removing them from our neighbourhoods."
Sergeant James Senior, of GMP's Stockport Central Neighbourhood Policing Team, said: "This was another great day with lots of positive feedback from the community and partners; particularly pleasing was the partnership approach.
"These days of action are all about arresting people and taking a zero-tolerance approach to those who conduct retail crime and anti-social behaviour in the town centre.
"Our partnership work with Trading Standards and Stockport Council's enforcement officers meant we were able to conduct premises visits and take a huge amount of illegal vapes off the streets.
"By working in this partnership, we can all help to make Stockport a safer place for people to visit and enjoy."
Recent research commissioned by Trading Standards North West has shown that the percentage of children smoking tobacco cigarettes in Stockport has halved since 2017. During the same time however, vaping amongst young people has more than trebled. In the research, 70% of teenagers that claim to vape said they have used disposable (single use) vapes. Over a third said they vaped because they like the flavours, it's cheaper than smoking and they are easier to obtain than tobacco cigarettes.
The government has also just launched a consultation on single use, disposable vapes asking for views on three areas:
Creating a smokefree generation: the consultation gathers views on the smokefree generation policy and its scope to inform future legislation.
Tackling youth vaping: the consultation gathers views on several options to ensure we take the most appropriate action to tackle youth vaping. The proposals in the consultation include restricting vape flavours, regulating point of sale displays of vapes, regulating packaging and presentation of vapes, and considering restricting the sale of disposable vapes. In addition, the consultation gathers views on the implementation of a new duty on vapes.
Enforcement: the consultation asks about introducing new powers for local authorities to issue on-the-spot fines (Fixed Penalty Notices) to enforce age of sale legislation of tobacco products and vapes.
Director of Public Health for Stockport, Jilla Burgess-Allen, said: "E-cigarettes are safer than smoking tobacco and are a good cigarette replacement for those trying to quit but, our message is clear, if you don't smoke, don't start smoking or vaping."
If you require help and support to kick the habit, you can find further information on the Stop Smoking pages on the Healthy Stockport website.