Stockport
Rapid plan developed to ensure face-to-face learning for St Thomas' C of E Primary School, Marriott Street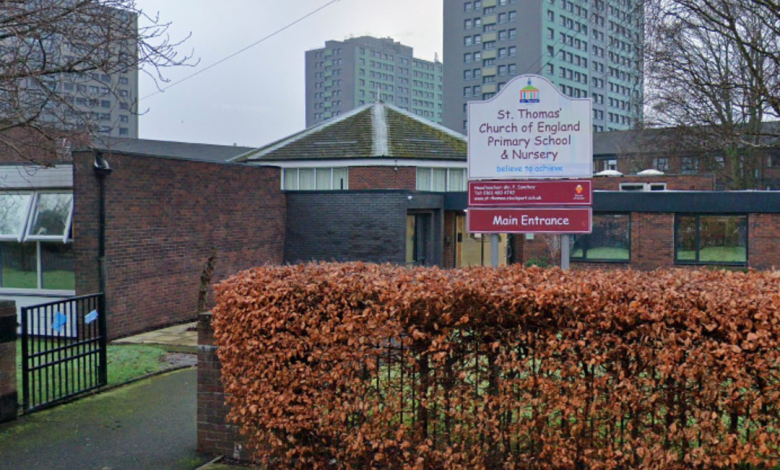 In line with the latest advice on Reinforced Aerated Autoclave Concrete (RAAC) in education settings, Stockport Council made the difficult decision at the end of last week to temporarily close St Thomas' C of E Primary School, Marriott Street, on Monday and Tuesday this week.
In partnership with the Laurus Trust and the Diocese of Chester, arrangements have now been made to ensure that children can access face-to-face learning from Wednesday.
Children from Years 1 – 6 will be transported to Woodford Primary School, five miles away, to learn for at least three weeks while work is undertaken. Nursery and Reception children will continue to learn at St Thomas' in the one area of the school which does not have RAAC in the ceiling.
Cllr Wendy Meikle, Cabinet Member for Children, Families & Education, Stockport Council, said: "Closing a school is never an easy decision, but the safety and wellbeing of our children always has to be a priority.
"We are fortunate that Woodford Primary, a free school that opened in September 2022, currently has space as the school has been growing over a period of seven years.
"Working in partnership with the Laurus Trust, the MAT of which Woodford is part, we are very grateful that so many people have come together to help find a solution to ensure that there is minimal disruption for St Thomas's children."
The new arrangements will start on Wednesday, 1 November, and buses will be provided to take children from St Thomas' to Woodford and back.
Linda Magrath, CEO of the Laurus Trust, said: "When we were contacted by Stockport, we knew we wanted to help.
"Given that our school is currently only open for two-year groups, we have the space to ensure that our current children can continue to learn in their own spaces with their own teachers, and St Thomas can have the top floor of our building as their own."
A full risk assessment and safeguarding review has been carried out as part of the temporary relocation.