Stockport
'On The Way Play SK' launches in Edgeley with 'Portable Play Time' and 'A Child's Eye View' Play Trails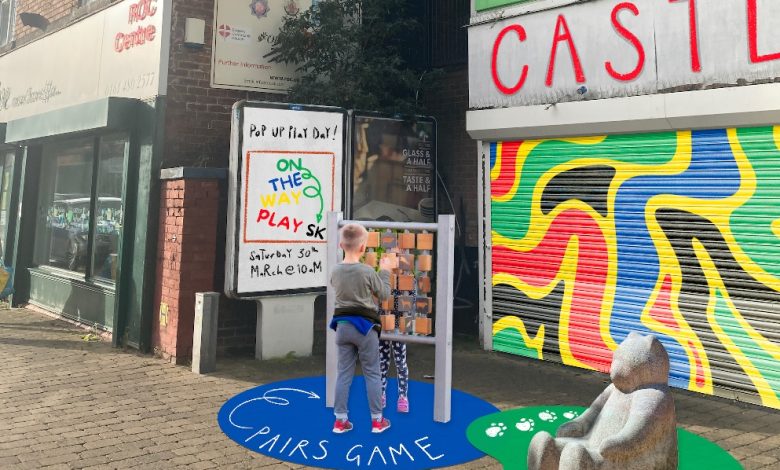 Two innovative 'On The Way Play' projects are set to be piloted in Edgeley in a bid to develop the landscape of child-friendly places, promote active travel, and nurture social connections in one of Stockport's neighbourhoods.
The pilots, 'Portable Play Time' and 'A Child's Eye View,' are scheduled to debut next year in Edgeley and surrounding areas as part of the Stockport Town Of Culture programme of events.
This project is funded by the UK government through the UK Shared Prosperity Fund.
'Portable Play Time' will pilot a temporary pop-up play and dwell area located on Castle Street in Edgeley. The high street will be transformed with natural play structures and informal seating in an underused pedestrianised area working with outdoor play equipment specialists Timberplay.
It will also serve as the hub for community events that celebrate play, active travel and promote climate action with child-led walking tours, lightning talks and creative workshops taking place next March.
'A Child's Eye View' will map a series of playful walking and wheeling routes around Edgeley thoughtfully designed through the lens of local children.
Collaborating with children at two local schools; Our Lady's Primary School and Larkhill Primary School, local artist and illustrator Laurie Pink and creative facilitator Do Your Art CIC, the project will bring to life vibrant active travel characters and playful prompts to form trails that enhance walking, wheeling, talking and playing together on the way to school, the shop, the park or the bus stop.
The pilots are part of a creative behaviour change and place shaping project led by community activation specialist Pauline Johnston at Civic and Social, in collaboration with the Stockport Climate Action Now team at Stockport Council and is funded by the UK government through the UK Shared Prosperity Fund.
Pauline Johnston, from 'On The Way Play SK', said: "We're excited for children to share the fun of the journeys we take with them everyday. By developing children in Edgeley's place shaping skills and making small changes to the local environment, we can empower them to share the playfulness they find 'on the way' with family, friends and the wider community.
"We want to tap into an emotional narrative; for younger children and their parents, building in those important 10 minutes together, being present and encouraging space and time to embrace 'on the way play' with these interventions. By developing children as route leaders and finding more reasons to embrace a child-friendly approach and perspective in our neighbourhoods we hope more families will opt for fun, active travel and climate-positive choices more often."
Cllr Mark Roberts, Deputy Leader of Stockport Council and Cabinet Member for Climate Change and Environment, said: "We're looking forward to piloting these place-based interventions to support the growth of Stockport's sustainable school travel strategy, the Climate Action Now green print and the ongoing walking and wheeling programmes in our communities.
"We're keen to understand the additional benefits that could emerge as a result of developing more child-friendly spaces on high streets that embrace play and active travel in our neighbourhoods."