Stockport
New tenant car park to support Stockport Council's climate action ambition opens at Stockport Exchange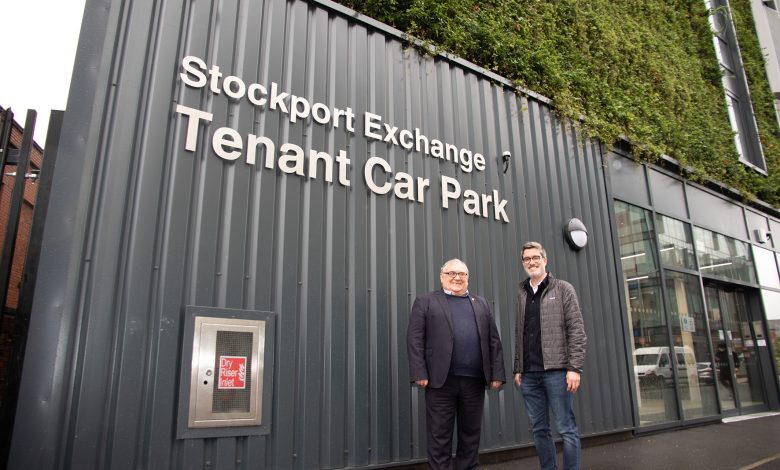 A new tenant car park has opened at Stockport Exchange, which supports the Council's Green Print for the future of the borough, as part of its aim to tackle climate change.
Office occupiers will benefit from an innovative 398-space multi-storey car park featuring 24 electric vehicle charging points and 20 accessible spaces over 5 floors.
A stunning green 'living wall' covering an area of 268m2 forms the focal point of the car park, delivering significant new biodiversity. A total of 13 plant species have been used, including native and pollinators designed to allow root migration meaning plants are healthier and have a longer life span.
The living wall also has benefits that contribute to health and wellbeing, with studies showing that people working in an environment with plants were 12% more productive and less stressed than those who worked in a space without natural features. In turn, air quality is also improved, as the soil captures particulate matter as well as the Carbon capture generated by the plant themselves.
Further green credentials include 172 Solar Panels which will generate an estimated 72,000 KwH/of electricity per year making a long-lasting contribution to reducing the Councils carbon footprint. The solar panels capture energy from the sun which is converted it into electricity using photovoltaic technology.
Stockport Exchange is now in its third phase, with a high-quality 64,000 sq ft office building currently under construction and due for completion next year.
The £145m Stockport Exchange development is being delivered by Stockport Council, and Muse, and forms part of Stockport's Town Centre West £500m regeneration masterplan, being delivered by Stockport Mayoral Development Corporation (MDC), alongside it's public and private partners.
The 130-acre site will bring over 4,000 new homes, alongside major transport and infrastructure improvements, Grade A office space and new leisure spaces and amenities to the town centre.
The opening of the car park comes off the back of Stockport Council's recent announcement about their Green Print plans for the future of the borough as part of its aim to tackle climate change.
Climate Action Now (CAN) plan was adopted in 2020 with the ambition for Stockport to be a carbon neutral borough by 2038. It forms part of a 'Green Print' for Stockport to be a climate-friendly place to live, work and invest and sets out the Council's ambition for the borough.
As a result of the Climate Action Now programme, the Council has seen more than £6.5m of inward investment and grants awarded to the borough to help reduce greenhouse gas emissions and prepare for climate change.
Cllr Colin MacAlister, Cabinet Member for Economy and Regeneration at Stockport Council, said: "Stockport Exchange has attracted a diverse range of businesses across a wide variety of sectors and it's great news that they will now be able to take advantage of this new addition to the site.
"The green credentials of the car park really set it apart, with a number of innovative features that support our plans to be a carbon neutral borough.
"The latest phase of Stockport Exchange is almost complete, and I look forward to sharing news on another new tenant shortly, ahead of its completion."
Tom Webber, senior development manager at Muse, said: "Sustainability and wellbeing are two of the core principles behind Stockport Exchange, and the new tenant car park demonstrates our commitment to delivering an environmentally conscious development in line with Stockport Council's plans to make the town greener and cleaner.
"As a place-maker and regeneration specialist, we're dedicated to implementing creative solutions with the next generation in mind. The forward-thinking businesses that call Stockport Exchange home now have a car park that befits their ethos and values, while at the same time helping Stockport Council in its endeavours to tackle climate change."
Once complete, the wider Stockport Exchange development will have delivered up to 375,000 sq ft of office space, creating a new business hub for the North West.