Stockport
Digitober may be over, but Stockport Digifest is around the corner!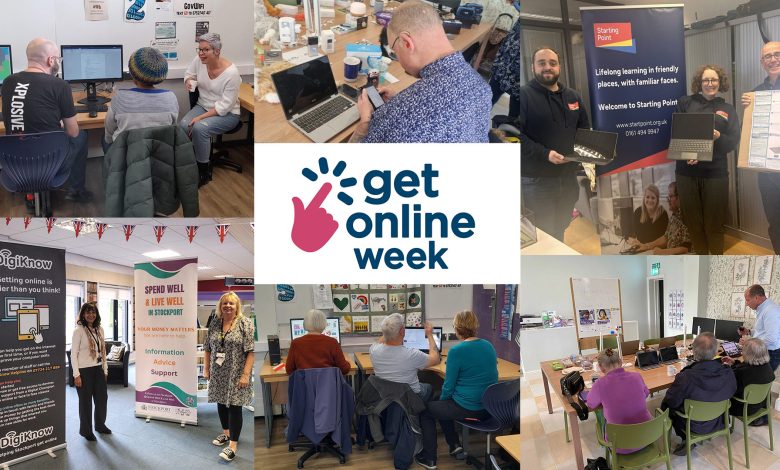 During Greater Manchester's 'Digitober', we showcased many of the ways we're using digital in Stockport. The highlight of the month was Get Online Week, when we participated in the UK's largest digital inclusion campaign to help people access the internet or improve their digital skills. There were more than one hundred events at different locations in Stockport, organised by the community groups and organisations that are part of the DigiKnow community network.
Councillor Jilly Julian, Cabinet Member for Finance and Resources, says: "The internet offers so many opportunities for improving lives, from finding work to saving money, finding information to staying in touch with friends and communities. But we know that there can be lots of barriers to people being able to comfortably and confidently access the online world, and lots of people in Stockport are not enjoying these benefits. That's why the DigiKnow network hosted events across Stockport during Get Online Week, to help people do things online. It was a wonderful initiative and I'm thankful to everyone who made it possible. It was completely inspiring to meet residents taking their first steps online and the Digital Champions who supported them."
But it's not all over because there's more to come! We are excited to announce that Stockport Digifest is coming soon as part of Stockport's Town of Culture year. Stockport Digifest celebrates digital creativity and innovation, featuring workshops, competitions, live streams and more. You can explore digital arts, music, movement and crafts and discover new ways to express yourself. Look out for further details on the Town of Culture website.
Cllr Julian continues: "Digifest will be lots of fun, but also educational. We want to showcase the diverse and creative aspects of digital technology. Learning new digital skills in a creative way can also open up new opportunities and benefits for people in many different areas of life."
Stockport Digifest is happening in February 2024. If you'd like to learn more about digital before then, DigiKnow, with free community classes and a Device Lending Library, can help. Call the DigiKnow Helpline on 07724 217888, visit our web pages or drop into your local library.
If you want to learn more about how Stockport is using digital to innovate, as well as progress towards reducing inequalities caused by digital exclusion, you can read more in our recent blogs on the Digital Stockport website:
Towards a digital solution to reduce delays in transferring patients to social care
Why we can't let digital by default leave people behind
Champion News for Digital Champions for Get Online Week
AI and innovation take top billing as Stockport digital businesses look to the future
A taste of cybersecurity for social enterprises