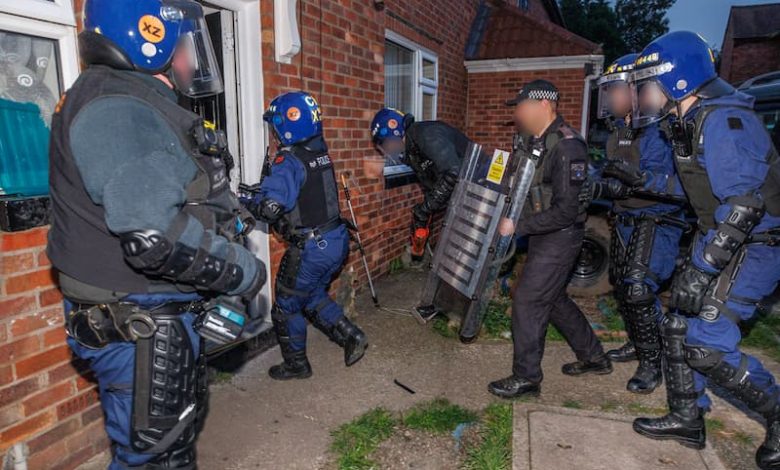 Detective Inspector Pat Wood has been at the helm of Greater Manchester Police's (GMP) Wigan Challenger team since April this year, leading a team of highly experienced detectives and police constables, all with one common goal of ridding Wigan of county lines drug dealing and organised crime.
He also leads the district intelligence team, who play a significant role in piecing together information from the community, partners, and officers to inform investigations and targeted proactive action.
The team work closely with district neighbourhood and response teams, as well as the local complex safeguarding hub, ensuring they can prevent offending, protect children and vulnerable people being exploited, and take proactive enforcement action through warrants and high visibility patrol plans.
Pat is set to celebrate 20 years at GMP next month, with his passion for tackling organised crime unwavering.
DI Wood said, "I joined GMP in 2003, starting out in response in Trafford. I think response is a great place to start your policing career, as no day is ever the same and you get to deal with a real broad variety of emergencies and crime types.
"I then moved into what was then known as the volume crime team within neighbourhood crime, looking primarily at robbery and burglary investigations across the Trafford district, before heading into CID deployed to a plain clothed 'gun and gang' team.
"One of the big operations I worked on was one named 'Op Viceroy' alongside 'Op Bank' at the time. My side dealt with the firearms and organised crime elements, whilst the other looked at money laundering and how this was intertwined. I remember it vividly because it was one of the first areas I'd worked in where so many partners were involved in one operation, like the council, HMIC and trading standards. Having that cross-partner support was what really made it a successful op.
"I've always had an interest in serious and organised crime; how these people tick, how they organise their networks and recruit vulnerable people into their ranks. I'd say my experience in that plain clothed role is what has shaped where I've now ended up in my career."
Pat has subsequently held roles as a temporary Detective Sergeant in Bolton, Detective Sergeant in Salford then seconded to a shooting case, the Deputy Chief Constable's Staff Officer and finally as a Detective Inspector in Wigan's main office.
He continued, "Whilst our team investigate all aspects of serious and organised crime, County Lines is our biggest issue due to our location.
"This is why early intervention and partnership work is so important to us, as this issue can't just be solved by us kicking doors in and locking street dealers up, although those things remain an important part of what we do.
"The complex safeguarding teams along with the council and early help colleagues work together to identify children that may be at risk of exploitation, before they have been recruited into these organisations, so they can provide early intervention and positive diversion, with charities supporting too by running life courses and activity provisions in the area. The earlier we and partners can become involved in that young person's life, the higher chance we have of successfully steering them away from the hands of criminals.
"We also recently launched the Wigan Challenger Partnership Board, ran by GMP and the Community Safety Partnership. The likes of housing associations, DWP, GMFRS, Chamber of Commerce and the benefits teams are all part of this board, where we collectively share information, ideas and key issues affecting the community so we can most effectively allocate resources and properly problem solve.
"This initiative is already working well, with great feedback from the community, drug dealing incidents down across the district and public intelligence submissions up, as people can see that we are taking positive action on what they're telling us."
Typically, the process of dealing with County Lines can be defined within 'Clear, Build, Hold'. Clearing involves the arrest, charging and sentencing of those committing offences, effectively making the area so hostile for organised criminals, they can no longer operate in the area. Building is focussed on uplifting the community post disruption, looking at longer term provisions and what can be offered within the community to prevent further offending. Holding is about maintaining the area, ridding it of the issue furthermore. Part of that process is ensuring there is legacy for the kids that have been removed from the County Lines world, to ensure they don't turn to other criminal ways to maintain their past wealth and lifestyle.
Speaking about some of the recent successes in the Wigan district, DI Wood said, "We have been running a proactive operation in the Worsley Hall area of Wigan for some time now, with two dedicated weeks of action taking place in August.
"This operation's activity, working alongside the partnership board, resulted in 14 warrants, 31 arrests, four premises shut down, seven people safeguarded, weapons including machetes, knives and a taser recovered, plus half a kilo of heroin and cocaine, and quarter of a kilo of cannabis seized from May to the start of September. Already those processed through the courts have received a total of five years imprisonment, with a further three individuals remanded awaiting their sentencing.
"The force county lines team have also recently secured a conviction of 2 years, 4 months, for Jamie Turley [aka Grove – 03/12/90, Derwent Road] that had been blighting the community running a large drug line in the area. It shows that we are successfully locking up controllers of the drug lines, who ultimately have the highest impact."