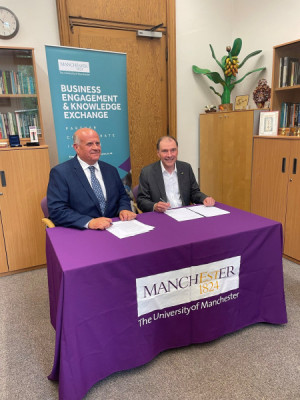 The University of Manchester is has announced its latest strategic partnership with Arup, a leading global sustainable development consultancy renowned for its innovative solutions. This collaboration marks a significant milestone in fostering cutting-edge research and driving impactful change across diverse areas of interest, including engineering, mathematics, urban planning, social value, and sustainability.
The partnership was officially sealed during a signing ceremony held on campus in July, the agreement solidifies a mutual commitment to advancing research, education, and knowledge exchange for the betterment of society.
Professor Luke Georghiou, Deputy President & Vice-Chancellor of the University, commented on the collaboration, stating, "We are thrilled to welcome Arup as our newest strategic partner. This partnership will be instrumental in driving innovation and addressing some of the most pressing challenges that our society faces today. Together, we can leverage our collective expertise to create positive and sustainable impacts on a global scale."
The partnership will explore transformative solutions that cater to the growing complexities of the modern world. Involving academic disciplines across all faculties, collaborative research initiatives will delve into advancements in materials, social design methodologies, data science, with a particular focus on building resilient, efficient, and inclusive places for future generations.
Arup's commitment to shaping a better world aligns with The University of Manchester's core goal of Social Responsibility through its activity and ethos of making a positive difference in people's lives. Through joint projects and knowledge-sharing, the partnership seeks to amplify their combined efforts to address social challenges and promote equality and inclusivity. The shared commitment to sustainability will drive research and innovation towards a greener and more sustainable future.
Mike Wilton, Director and Manchester Office Leader at Arup, expressed his enthusiasm for the collaboration, stating, "Arup is delighted to become a Strategic Partner of The University of Manchester. We believe that through this collaboration, we can unlock new insights, push the boundaries of engineering and design, and create a lasting positive impact on communities and the environment."
This strategic partnership is a testament to The University of Manchester's ongoing efforts to build bridges between academia, industry, and society to support the pursuit of a sustainable and prosperous world.