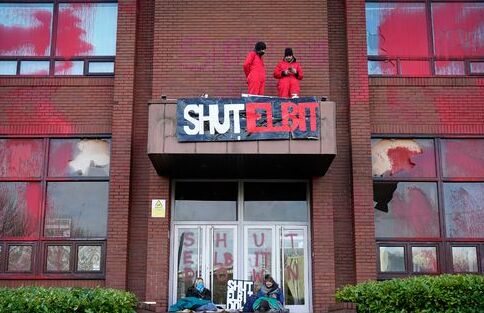 Six people were arrested following the protest in Oldham for a £100m MOD weapons contract. The protest started after its owner won a £102m weapon technology contract with the British Army.
Protestors from Palestine Action and Extinction Rebellion threw red paint to the walls of the company on Monday. Israeli-owned Elbit Ferranti factory chained its gates to protect itself from the protestors.
Police said that six people who are aged between 20 and 40 were arrested on suspicion of criminal damage and aggravated trespass. They are still in custody for questioning.
Due to the protest, Greenacres Road was closed for a time.
After the Ministry of Defence announced that Elbit won a contract for the new sensor to shoot systems, the protest started. The British Army has invested £102 million to allow frontline soldiers to detect and engage enemy targets in seconds.
A member of Palestine Action told the PA news agency: "We will continue to take direct action until we shut Elbit down and end all complicity in systematic injustice."
.