Oldham
Oldham Parade and Switch On Show – everything you need to know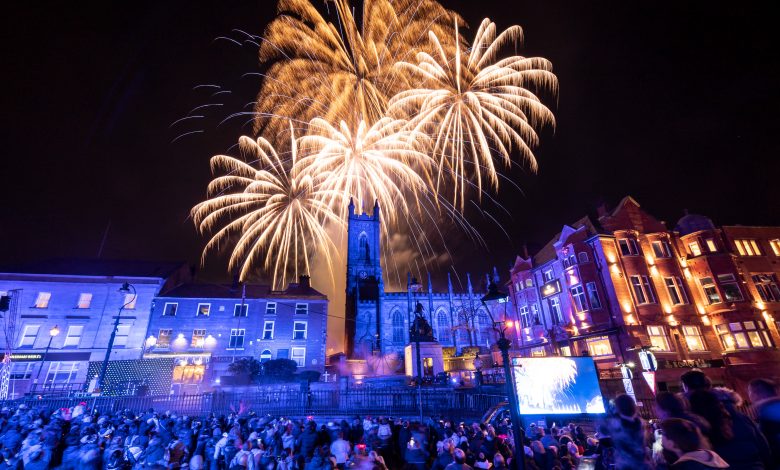 Oldham's spectacular Christmas Parade and Switch On Show returns for the 25th year on Saturday 18 November.
The much-loved annual event for families will take over the streets and light up the town with music, entertainment, festive cheer, and community spirit.
Join us in the town centre for the fantastic parade starting at 12noon from the Old Town Hall. Watch out for Santa and all his friends, including over 200 local performers and community group members including Men Behaving Dadly, Alt Academy and Oldham Youth Service.
Listen to Oldham Scottish Pipe Band at 1pm, followed by the sensational Dobcross Silver Band at 1.30pm on the High Street (facing Rhode Island Coffee Shop).
Oldham's very own Fierce Dance will be performing at 1.30pm outside the Old Town Hall, followed by meet and greets with Santa and his elf at 2pm, 3pm, and 4pm. So, bring your little ones and ask them to bring their Christmas lists!
From 12.30 to 5pm the town centre will be alive with strolling performers Mistletoe Belles, Ollie and Millie the Oldham Owls and Rodney the Reindeer, the enchanting Spruce Cantatus, Musical Ruth, the Fairy Godmother, and the Cheeky Christmas Elves Elf and Safety.
Don't forget to take plenty of pictures with the performers and tag them on social with #ChristmasinOldham – we'll be posting the best ones from the day.
And the festivities don't end there. From 5.30pm it's the grand Switch On Show outside the Old Town Hall featuring 'The Wrong Reindeer' a fairy-tale outdoor performance created by Oldham Theatre Workshop in partnership with Oldham Coliseum Theatre.
This heart-warming story follows a donkey's wish to be a reindeer and a child who can't wish at all, embarking on an adventure that reminds us of the true meaning of Christmas.
The evening will finish with a firework finale that will light up the night sky and illumination of the Christmas lights, marking the official start of the festive season.
Cllr Arooj Shah, Leader of Oldham Council, said: "Our Christmas Parade and Switch On show has become a much-loved tradition here in Oldham, and I'm really looking forward to what's sure to be a fantastic event once again.
"I love seeing everyone come together with their families, enjoy some free entertainment and get into the Christmas spirit.
"It's also a great opportunity to do some early Christmas shopping in the town centre, including with our amazing traders at Tommyfield Market ."
And don't miss our next Christmas event, Brass Monkeys, set to take place on Saturday 9 December, from 11am to 3pm across Oldham town centre.
Listen to music throughout the day, as local and national brass bands come together to provide the perfect soundtrack for your Christmas shopping.
Check out music from bands including Grimethorpe Colliery Band stars of 'Brassed Off', Fat Cat Brass, Hackney Colliery Band, Oldham Music Service and many more. This event is not to be missed – think Whit Friday, but at Christmas.
This year, the Christmas Tree Festival returns from Thursday 7 to Sunday 10 December at Oldham Parish Church – pop in and check out more than 40 Christmas trees on display. 
On Saturday 16 December Stand & Be Counted and Oldham Coliseum will present Gifted; a new magical craft trail at Hilton Arcade, Oldham town centre between 11am-2pm.
Audiences can build their own creative gift box as they immerse themselves in the celebratory worlds made by community groups across Oldham. Expect surprise performances from local talent.
Alongside the packed programme, the Heritage, Libraries and Arts Service are hosting an array of events, including showings of The Wrong Reindeer, a 20th anniversary screening of the hilarious film ELF and hosting a Christmas Books and Bobs Fair.
Mark your calendars, get together with loved ones, and get ready for the Christmas season.
For more information about the Christmas events programme visit: www.oldham.gov.uk/christmas