Bolton
Iconic monument sends powerful message about violent crime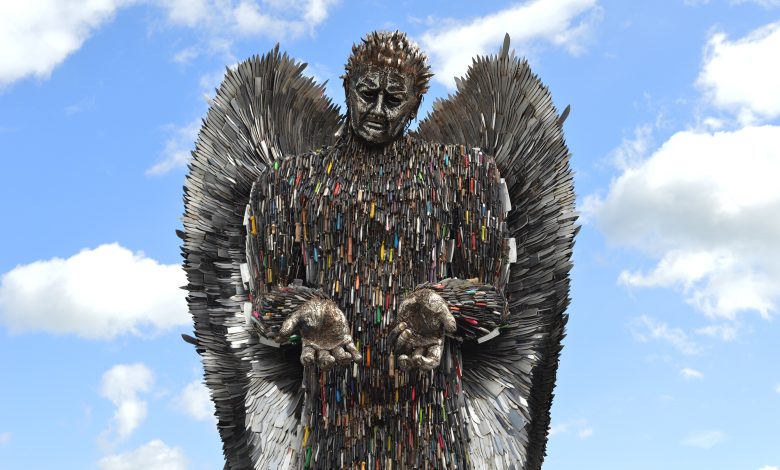 The National Monument Against Violence and Aggression, commonly known as the Knife Angel, is bringing together partners across Bolton, representing the Voluntary Community Faith and Social Enterprise (VCFSE) sector, to call for social change.
The 27-foot-tall statue, made from over 100,000 nationally seized blades, weighs over three tonnes and will be making an appearance on Wednesday 1 November.
Located on Deansgate, the Knife Angel will be in place until Thursday 30 November when it will resume its journey around the UK.
The town will officially welcome the memorial on Friday 3 November at 2pm, with a launch event that will see representatives from Bolton Council, VCSFE sector, Greater Manchester Police, Greater Manchester Fire and Rescue Service, Youth Voices, Youth MPs and The Mayor of Bolton, amongst others, take part in speeches, a special poem recital, a dove release and a ribbon tying ceremony.
Created by artist Alfie Bradley, the sculpture was designed to highlight the negative effects all forms of violent behaviour has on communities and to raise awareness about better ways to solve disputes.
The poignant monument is also a memorial designed to remember those lives that have been lost through violent and thoughtless actions.
The arrival of the monument isn't just about the 30 days it is in Bolton, although this time will be filled with a packed programme of workshops and activities to support the campaign, involving schools and community groups across the town.
It is about the legacy that it leaves behind and the positive changes it will bring for the future in Bolton and its local communities.
Bringing a commitment from leading bodies to create better initiatives to turn the tide on aggressive behaviour, the aim is to educate and facilitate more positive actions.
Bolton Council's Chief Executive, Sue Johnson, said:
"I am extremely proud that we have managed to secure the National Monument Against Violence and Aggression for Bolton and I am looking forward to showcasing such an outstanding piece of artwork.
"The council works continuously to reduce all forms of violent crime across the borough, and this additional work can only look to enhance the existing effort from the council and its partners to make our town safer.
"I hope this month of action inspires our community to make better choices and that the legacy work brings about life long social change in our town."
Bolton Wanderers in the Community's Chief Executive Officer, Phil Mason, said:
"It is a real privilege for us in Bolton to have this national monument, the Knife Angel, in our town over the month of November.
"It gives us the opportunity to focus and highlight the negative effects of violent behaviour and in a real partnership with so many organisations, charities community groups and schools, work towards a legacy of transformation in our communities.
"During the month there are many events and activities that will remember those who have lost their lives through violent crime, those who are victims and stories shared from those who have reformed their ways and are encouraging others to keep away from such crimes.
"November is a month of remembrance and with the Knife Angel in town this can be a catalyst to remember, and to unify our communities."
Bolton Youth MP, Emily Quinton, said:
"I think the Knife Angel is an amazing representation of the impact knife crime and violence has on communities.
"I'm really proud to be involved and hope that I can work with young people to make changes for the future."
As part of the nationwide bid to create social change, The British Ironwork Centre have created the national youth 'Anti-Violence Champions' initiative.
Calling on young people to be part of that movement and become an Anti-Violence Champion to support the campaign locally.
This is to change the way that children and young people perceive violence and use it to solve disputes, issues and disagreements.
The public are welcome to come and visit the statue where they can read information about the Kife Angel, and send feedback on their experience to [email protected]
In remembrance of loved ones lost to violent crime, visitors are invited to tie a ribbon to the white picket fencing.  This must be a minimum of 80cm.
For more information please visit www.bolton.gov.uk/knifeangelbolton