Trafford
Building momentum! Work starts at Trafford Waters to bring care home with specialist dementia care to Traffordcit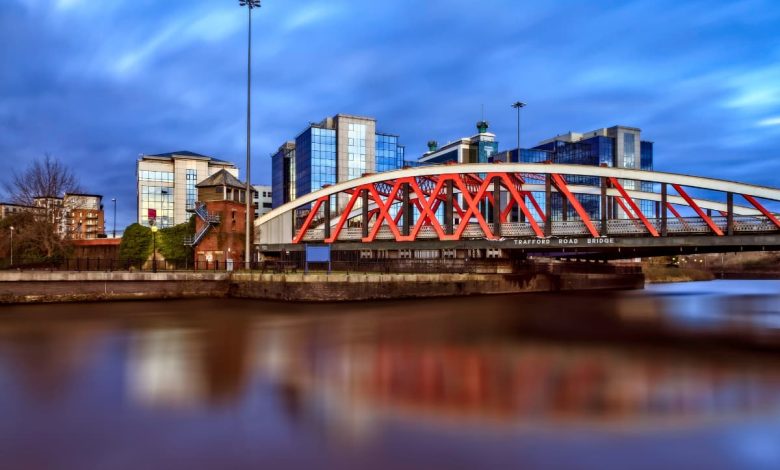 Work has begun to start building an innovatively designed care home, with specialist on-site dementia care at Trafford Waters in TraffordCity.
Trafford Council approved the plans for the 85-bed care home earlier this year, which will be delivered in partnership by specialist healthcare provider Montpelier Estates, investment partner Octopus Real Estate and waterside regeneration specialists Peel Waters.
The home will offer tailored dementia care and amenities for later living, with a range of on-site facilities to encourage socialising and community building in a comfortable, safe, and supportive space.
The new residential development at Trafford Waters will include an on-site bistro café, hair salon, cinema, and sensory rooftop garden for residents to enjoy and relax in.
There will also be plenty of spaces created within the development for community events, relaxation and exercise to look after the mental and physical wellness of future residents. Several parts of the facility will also be open to the wider public to encourage further interaction and community building within the emerging Trafford Waters neighbourhood.
The care home forms part of the first phase of 350 residential properties being built at Trafford Waters. It follows on from L&Q also recently breaking ground to start the delivery of their affordable homes scheme also at Trafford Waters.
Both the care home and the affordable homes scheme form a key part of Peel Waters' wider vision and plans for their Trafford Waters neighbourhood. Peel secured outline planning permission for the waterside development in TraffordCity and it is projected to create 3,000 new jobs and 3,000 new homes, in addition to a new on-site primary school, hotel and 20 acres of open space to improve health, wellbeing and access to nature.
James Whittaker, Executive Director of Peel Waters said: "It is fantastic to see Trafford Waters building momentum with two new residential developments starting on site in quick succession, bringing much needed, quality, mixed tenure homes to TraffordCity.
"We're committed to creating a community for everyone at Trafford Waters. The level of thought and attention to detail within this specialist development to promote social inclusion, multi-generational friendships and community building is excellent and we're proud to be working in partnership with Montpelier Estates and Octopus Real Estate to bring this high-quality offering to Trafford Waters.
"Along with creating these new homes at Trafford Waters comes a pipeline of new jobs, apprenticeships, and opportunities for our community. It's a really exciting time for TraffordCity and we are proud to be working with our partners to deliver these large-scale, transformational, waterside developments across our Peel Waters portfolio."
Cllr Tom Ross, Leader of Trafford Council, added: "Trafford Council is totally committed to a programme of regeneration and development across the entire borough. Trafford Waters is a fantastic development which will result in 3,000 new homes as well as thousands of new jobs, hotel and 20 acres of open space.
"Work on the new care home with specialist dementia care is also a hugely positive step forward in the development and we look forward to it opening in the near future. Trafford Waters will be a superb addition to Trafford and may I please say a huge thank you to all the partners who are working so hard to make a reality."
Anna Ciesielska, Director of Montpelier Estates said: "We are delighted to be a part of Peel Waters' vision for a new community and we are extremely excited that the ideas we started to formulate nearly 2 years ago are about to be built and become a home to many residents.
"We feel extremely privileged to be working with partners that share our ethos and beliefs of what a care home should be. We understand that moving into a care home is a life changing decision for the whole family and that is why we are focused on creating spaces which people find attractive to spend their time in and where they can continue to have an active role in the wider community.
"The support and assistance we have had from Peel Waters, Octopus Real Estate and their operator has been invaluable and it is only with their help that the project has been able to proceed to this stage."
Max Weitzmann, Investment Director at Octopus Real Estate said: "Everyone at Octopus Real Estate is delighted to be able to support with the creation of another much-needed top quality care home that will be run by a best-in-class operator. TraffordCity is an innovative concept; a city within a city, with a focus on health and wellbeing. To have a care home at the centre of such an impactful regeneration project is a fantastic result for the wider later living sector. We look forward to seeing the home come to fruition and thrive over the coming years."