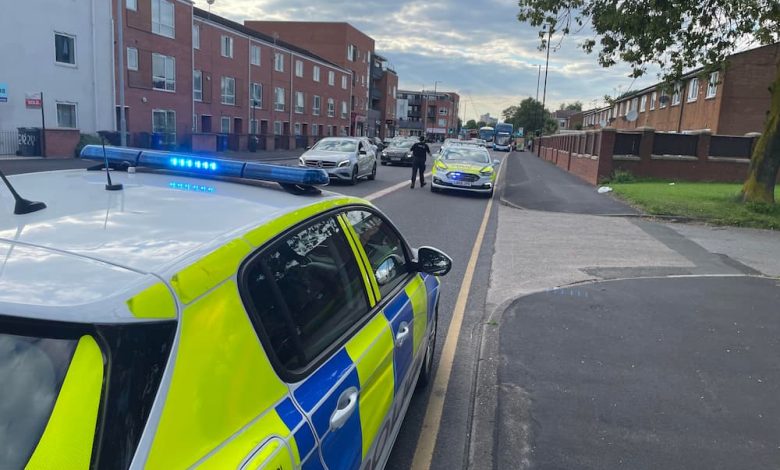 Embarking on their customary proactive patrols across Gorton and its environs, the team's efforts were seamlessly synchronized with the deployment of a section 60 in the Monsall district.
From Gorton's vibrant streets to Moston, via the thoroughfares of Openshaw and Failsworth, the vigilance of officers permeated East Manchester, reaffirming their commitment to maintaining the sanctity of the borough's public spaces.
The implementation of the section 60 directive was a strategic response to prior incidents of violence within the locality. Clad in high-visibility attire, officers assumed vigilant patrols to curb anti-social conduct, empowered by temporary extended authority to conduct stop and search procedures.
Under the adept leadership of Inspector Dan Pickavance, the teams executed meticulous stop-search operations, monitored areas flagged as crime hotspots by the public, and remained ever-vigilant for any semblance of illicit activity.
Inaugurating the night's proceedings, the pursuit of a vehicle believed to be sporting cloned plates set the stage. The tenacious efforts of PCs Thompson and Pickles led to the apprehension of a man in his twenties, who was subsequently arrested on suspicion of motor vehicle theft.
During their tenure in the Monsall district, the Gorton team conducted a total of six stop-searches, contributing to a palpable deterrence that dissuaded potential offenders from taking to the streets.
The officers' unwavering dedication extended to investigating burglary reports relayed by the vigilant public. In a promising development, a man in his thirties was detained on suspicion of burglary, reflecting Inspector Pickavance's resolute stance in combating this menace.
A climactic moment ensued as the night drew to a close, witnessed by yet another successful pursuit involving the Gorton team. Detecting a vehicle flagged as stolen earlier in the evening, the officers initiated a chase that culminated in a joint effort with the specialist officers from GMP's esteemed Road Policing Unit. The pursuit reached its culmination on Latrigg Crescent, Middleton, resulting in the apprehension of a sixteen-year-old youth on suspicion of motor vehicle theft and unlicensed driving. The teenager was subsequently released on bail, pending further inquiries.
Gorton's Neighbourhood Team once again demonstrated their unflinching commitment to upholding community safety, unfurling a dynamic tableau of pursuits and accomplishments on this eventful night.