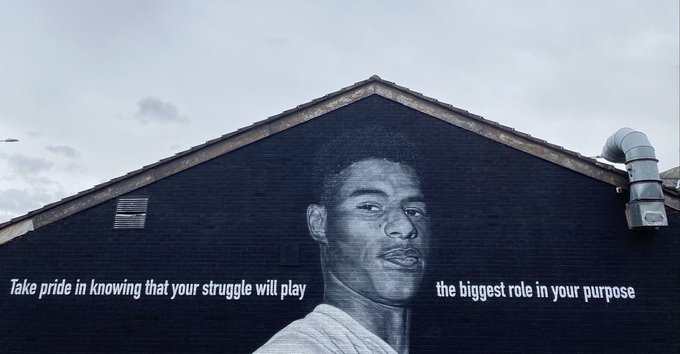 Giving Back
 They say the holidays are a time for giving, that's a message  Marcus Rashford's preached with his actions every day of the year.
The Manchester United striker has been very vocal about his tough upbringing in Wythenshawe growing up with very little money and food.
Since then Rashford's made it his mission to end child poverty and hunger.
His tireless campaigning helped sway the UK government into giving children six-week meal vouchers during the summer months.
The 23-year-old got an MBE in the Queen's birthday honours for his work.
Asking for help
 Rashford's community of Wythenshawe is by no means the wealthiest area of Greater Manchester.
At one time it was the largest council estate in Europe but has since fallen on some very hard times.
According to Manchester City Council numbers over 80% of people who live within Wythenshawe in areas like Baguley, Sharston, and Woodhouse Park get financial support or have low income.
For many living in that area, Rashford's charity work has helped change their lives.
18-year-old shop worker Jennifer Hulme says the United striker has changed the way members of the community view their situation.
"People are not so worried about asking for help as Marcus has talked so well about what he went through as a child," says Hulme.
Inspiring
 Local politicians are among the many who've been inspired by Rashford's charity efforts.
The Labour MP for Wythenshawe and Sale East Mike Kane calls Man United's forward a great role model for the community.
"He is a remarkable young man, on and off the pitch, and comports himself so well in public," says Kane.
"He is a real inspiration to young people everywhere but particularly in Wythenshawe."
Kane knows a thing or two about the region.
He grew up near the same Northern Moor Estate as Rashford.
Rashford's successful six-week voucher campaign helped alleviate a lot of stress for the Wythenshawe Food Bank this past summer.
Scott Tulloch runs the Food Bank and says Rashford's help along with local companies and Manchester United made the summer break easier for them to handle.
Ongoing Issue
 As much as Rashford's efforts have helped, local charities warn their problems are a long way from being solved.
Patrick Dunigan is a University technician who lives across from a church foodbank.
He says he isn't sure all this campaigning will lead to long-term changes.
"I think he's made it that people aren't afraid to ask for help, which is good, but I'm not so sure it will make or has made a real difference," says Dunigan.
"It's just a moment in time – like a feather in the wind.
"For real change, you need the big employers to come and give people more jobs," he says.
Manchester's Lord Mayor Tommy Judge represents the community of Wythenshawe and says he thinks Rashford's high profile is helping to change the town's views on their situation.
He says: "Wythenshawe often suffers from a bad reputation, but he has shown people from the area what is possible and what can be achieved.
"We have wonderful people here who have all done so much to help in the pandemic."
"He has had a positive effect as people are now not ashamed or afraid to ask for help," says Judge.
"He has made people braver to talk about struggling." (JSL).