Salford
Winning and Highly Commended entries for Salford Council at national economic development awards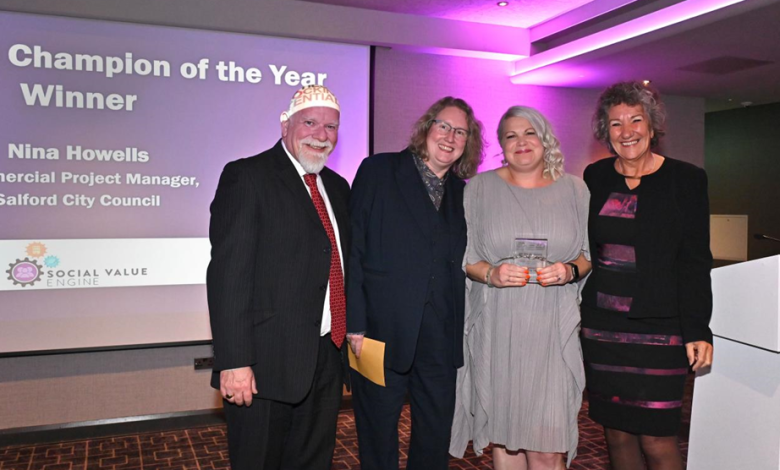 Nina Howells, Commercial Project Manager at Salford City Council, has been named Social Value Champion of the Year at the Institute of Economic Development (IED) Annual Awards 2023.
The awards, which were hosted in Birmingham last week following the IED Annual Conference 'Grow for Good? Reappraising the UK's Growth Objectives', recognise achievers in the public and private sector through a series of individual, team and organisational categories.
The Social Value Champion of the Year award – sponsored by Social Value Engine, jointly developed and co-owned by Rose Regeneration and East Riding of Yorkshire Council – is for individuals who have championed and made a significant contribution to social value creation, developing best practice in their field and making positive impacts in their communities.
The nomination for Nina focused on her work as Place Social Value Lead, driving forward the council's ambition to embed social value in their place-based activities. Perhaps most significantly, Nina has collaborated with planning colleagues to introduce a social value policy in the council's local plan, meaning that every major development requires a social value strategy when planning permission is sought. Salford is the first local authority in the country to take this approach, and has already experienced an uplift in commitments to social value.
Nina has also advised colleagues and partners on how they can focus social value creation on impact rather than inputs, and how they can validate their impact, working with teams in the Place directorate to ascertain their current value-creating activities and explore other ways to have a positive impact on Salford communities through their business-as-usual activities.
After the ceremony, Nina commented: "I am thrilled and humbled to be recognised amongst such esteemed company with worthy winners and highly commended individuals and teams creating value through their work and projects. Social value is all about collaboration, so this award is definitely a Team Salford achievement. I feel very lucky to be able to do something I feel so passionately about, working with all our Salford communities and businesses to ensure everyone benefits from the growth in our amazing city. It is certainly a journey, not a destination, and with so much more to do together with colleagues and partners we will now look to strengthen our approach."
IED Director Bev Hurley CBE, who hosted the IED's 40th anniversary awards evening, said: "Many congratulations to Nina as the winner of our Social Value Champion of the Year award. Our judges said this was a strong submission demonstrating how social value can be embedded and integrated across multiple programmes. It provided clear evidence of strong practice across the organisation and having reach beyond her own role. Nina herself has also focused on social value within her MBA studies, indicating a personal passion for the topic."
Salford City Mayor Paul Dennett said: "It is fantastic news that at the Institute of Economic Development Annual Awards 2023 we won the Social Value Champion of the Year Award and were also Highly Commended in the Collaborative Initiative of the Year Award. Social value is a key priority in Salford. I am absolutely passionate that local people must be able to benefit from the growth that is taking place in our city. We have worked hard to make sure the city is better and fairer for all and will continue to drive forward with this important work."
IED Executive Director Nigel Wilcock added: "The awards dinner was a wonderful evening, following on from a highly successful conference in the day, and both were a fitting celebration of our 40th anniversary as a professional body. Congratulations to all our winners, those who our judging panel determined should be Highly Commended for their nomination, and indeed everyone who was shortlisted and took the opportunity to enter the awards. Thanks to Key Cities for sponsoring the awards evening, and our individual award sponsors for their support."
The IED is the UK's leading independent professional body for economic development and regeneration practitioners, supporting them to create stronger communities and sustainable economies.
---
Press and media enquiries