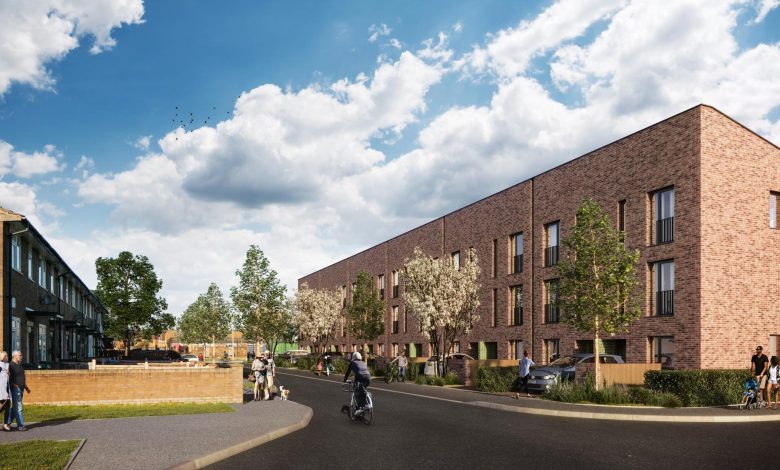 Construction work has begun to deliver 274 low carbon new homes in Manchester's Collyhurst neighbourhood – marking a key milestone in the city's transformative Victoria North project.
Far East Consortium (FEC), working in partnership with Manchester City Council (MCC), has broken ground on the first phase of development in Collyhurst Village and South Collyhurst – two of seven neighbourhoods that collectively represent one of the UK's largest urban regeneration projects.
The first phase of development will see the joint venture build a mix of townhouses and apartments intended to cater for a diverse range of families, young professionals and older residents as it supports the sustainable regeneration of the neighbourhood.
The works include the delivery of 130 high quality homes for social rent, with existing tenants in the area benefitting from the creation of a new 1.3 hectare park and 2,000 sq ft of new commercial and retail space to improve local services.
This phase of development includes more than £35m of public investment, and represents the first major regeneration in Collyhurst in 50 years.
Victoria North is one of the UK's largest and most ambitious urban regeneration projects and the biggest in Manchester's history. It will deliver 15,000 homes in Manchester city centre over the next decade, growing the population by 40,000 people and creating seven new and distinct neighbourhoods on largely disused brownfield land.
Work is already underway on schemes within Victoria North's Red Bank neighbourhood and New Cross. FEC has invested more than £120m in the Victoria North project, which has a gross development value of £4bn.
DEX Construction has been appointed to deliver the scheme in Collyhurst, with first completions expected in 2024. DEX recently delivered FEC's award-winning Mount Yard scheme at Manchester's Angel Meadow Park and is set to complete the developer's New Cross Central scheme in the coming months.
Cllr Bev Craig, leader of Manchester City Council, said:
"Victoria North is ambitious, and it is transformational – and therefore it is right that we focus our attention first and foremost on communities that will benefit most. This is a once in a generation programme of investment for Collyhurst and represents exactly the type of vision we should be striving for – meeting demand for new housing, many of which will be social and affordable homes, to create sustainable, attractive neighbourhoods."
Victoria Hunter, senior development manager at FEC, said: 
"Work starting on these new homes represents a genuinely historic moment for the joint venture and the local community in Collyhurst, as part of a long-term regeneration plan that will stimulate investment in local services and green space while improving connectivity to the city centre. As the largest existing community within Victoria North, we've always recognised the active role residents play in shaping the development of their neighbourhood and Collyhurst as a cornerstone for the future of the project. Having worked with local residents to design high quality, low carbon homes for both social rent and private sale, we're looking forward to further enhancing a vibrant and diverse neighbourhood for current and future generations to enjoy."
Cllr Gavin White, Manchester City Council's executive member for housing and development, said: 
"This is a landmark moment for the people of Collyhurst who have come so close to seeing major investment in their community in the past. The work that we promised would transform this neighbourhood is now beginning on site and it is a testament to the local people who took part in the various consultation exercises and had belief in our ambition for the area that we have reached this milestone.
"Importantly this investment will deliver 130 new social rent homes – 274 homes overall – helping to meet big demand for quality, low carbon homes in the area. And the new homes will be anchored by a new park, underpinning our focus to deliver new green spaces for our residents, while creating a real focal point for the Collyhurst community to flourish."