Stockport
Stockport's Warm Spaces initiative heats up again for Winter 2023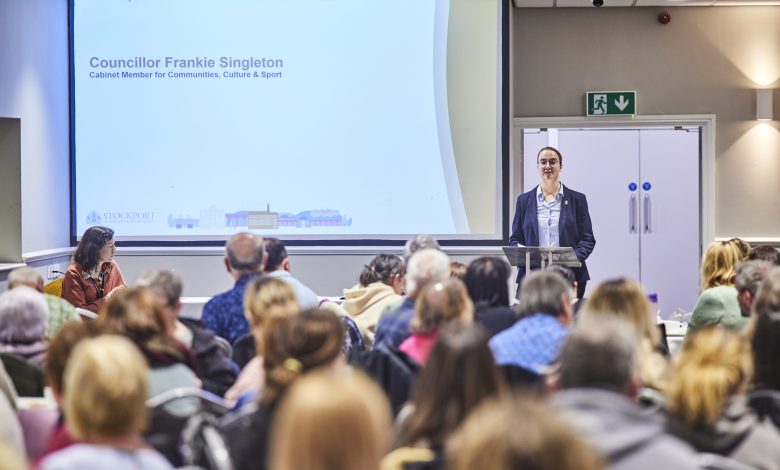 A Stockport funding programme that has helped community organisations to combat residents' loneliness, isolation, wellbeing and keep them warm and well during winter has been relaunched.
Councillor Singleton launched the event at the Stockport County Football Ground, held yesterday by Stockport Council and Stockport County to thank providers of 52 Warm Spaces and Libraries now available throughout Stockport. Previous Warm Space providers shared their experiences, and Warm Space recipients spoke on the impact it had on their lives. Additionally, a Networking and Money Max Roadshow presentation offered financial advice to residents.
Warm Spaces, available in every ward across Stockport, invite individuals to drop in and relax. These spaces remain open until the end of February and offer complimentary Wi-Fi, hot meals, and drinks. They also function as central hubs, providing information and guidance to signpost residents to further support.
Alison Warwood, Chief Executive Officer for Stockport County Community Trust said, "We were delighted to be able to host the Warm Spaces launch today at Stockport County. As a previous recipient of a Warm Spaces grant, we know how important this fund is to community groups to help support those people that need it the most. The grant we received has helped to fund our County's Social Well-Being Group at Edgeley Park which takes place weekly, supporting people in the community living with long-term health and mental illness, dementia and experiencing loneliness social isolation."
"We hope to continue to support Warm Spaces and the important work these grants will continue to support."
Councillor Frankie Singleton, Cabinet Member for Communities, Culture and Sport, commented: "I'd like to thank everyone who attended today to the launch of Stockport's warm spaces initiative. It was great to see so many local community organisations and businesses wanting to get involved this year and provide a warm space so that all that all our residents have somewhere to keep warm this winter. "
"The response from our Warm Spaces provided during the winter of 2022/23 was overwhelming, and we are delighted to have been able to provide grants to numerous spaces providing warmth and shelter again this winter. There has been an extraordinary amount of dedication and volunteered time from everyone who has played a part in this scheme."
"We know there are going to be people who are facing genuine hardships this winter, which is why our Warm Spaces are so important and serve as welcoming and inclusive environments for those of all ages."
Helping our residents
The council and its partners have implemented a wide range of initiatives to help residents stay warm and well through the winter.
Residents can access advice and information on the cost-of-living online hub or by calling the cost-of-living helpline on 0161 474 2140. Lines are open Monday – Friday, 9:30 am – 4 pm.
Apply for the funding
We're providing funding of up to £1,000 to assist communities that want to open a warm space in their neighbourhood. The fund is open for applications until 31 December 2023 or until funds have been allocated.
Further information can be found here.
Access the application form directly. If you have questions or would like to discuss your idea, you can contact the Warm Spaces team at [email protected]