Stockport
Stockport Council signs up to the Fostering Promise launched during Greater Manchester Fostering Fortnight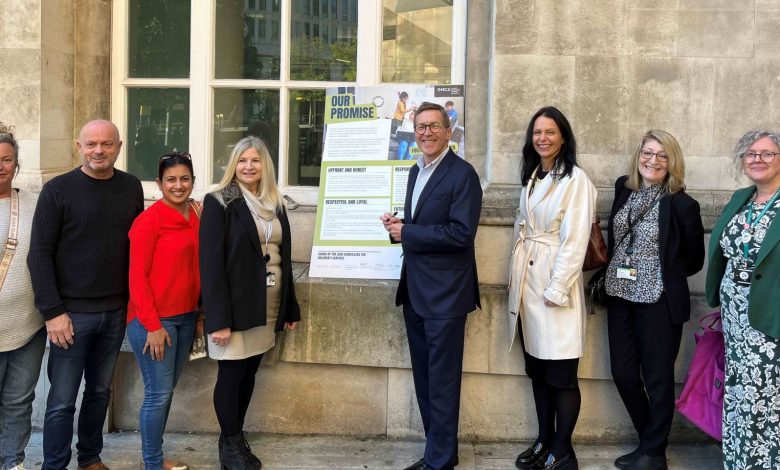 Councillor Mark Hunter, Leader of Stockport Council and Greater Manchester Lead for Children and Young People was joined by Councillor Wendy Meikle, Cabinet Member for Children, Families and Education, Stockport's Chief Executive, Caroline Simpson, Chris McLoughlin, Director of Children's Services and local foster carers and fostering staff.
Stockport Council is committing through the promise, to create a culture based on trust and loyalty that is caring, respectful and responsive to the needs of our foster carers. It is a clear demonstration of respecting the professional role of a foster carer around the young person, supporting them emotionally, valuing their expertise and helping them develop.
Councillor Mark Hunter, Leader of Stockport Council and Greater Manchester Lead for Children and Young People, said: "The fostering promise has been drafted to show our shared commitment to our invaluable foster carers and the vital role they play in supporting children and young people in Stockport and across Greater Manchester. Our Fostering Unfiltered campaign is a good example of Stockport's collaboration as a city region on such an important issues but we don't underestimate the challenge and we feel like the next 12 months are particularly important with the announcement that Greater Manchester has been chosen as a pathfinder areas for the national fostering reforms."
"I hope our Fostering Promise shows how much we value our carers in Stockport and if you've been thinking about fostering then please contact Stockport Council's fostering team."
Stockport foster carer Geoff Durbin, said: "When we foster children we promise to keep them safe and loved in a stable, caring family and for children who've been let down time and time again, promises are massively important to them and when foster carers deliver on these promises, you see wonderful things happen with those children.
"It's great to see such bold promises from Stockport and across Greater Manchester. Just like with our children, what we expect now from our fostering services is to deliver on those promises."
The launch of the Fostering Promise marks the start of the first ever dedicated fostering fortnight for Greater Manchester which Stockport is supporting locally.
Stockport will be shining a light on the real-life experiences of its community of foster carers to help local people explore fostering and decide whether it's right for them. The two weeks will see a drive in activity to celebrate the existing fostering community across Stockport and highlight the importance and value of fostering as part of Stockport's local community.
If you're interested in fostering, or simply want to find out more about the role, then visit the fostering unfiltered website or contact Stockport Council's fostering recruitment team on 0161 474 3400 or visit our Fostering page.
*Photo left to right: Louise, foster carer, Geoff, foster carer, Carmelah, foster carer, Cllr Wendy Meikle, Cabinet Member for Children, Families & Education, Cllr Mark Hunter, Leader of Stockport Council and Greater Manchester Lead for Children and Young People, Caroline Simpson, Stockport Council Chief Executive, Chris McLoughlin, Director of Children's Services, Rebecca Key, Director of Children's Social Care