Stockport
Stockport Council pledge to armed forces community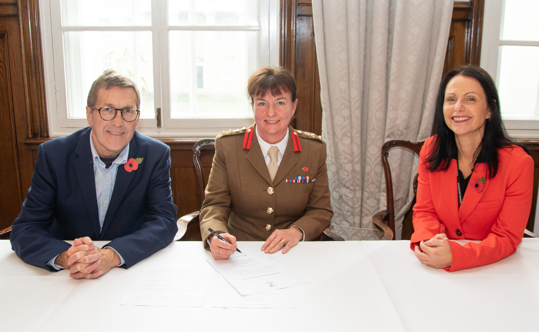 The Armed Forces Covenant was renewed by Stockport Council in a ceremony held at Stockport Town Hall this week.
Attended by the Mayor of Stockport Cllr Graham Greenhalgh, Leader of Stockport Council Cllr Mark Hunter, Cabinet Member for Communities, Culture & Sport Cllr Frankie Singleton, Cllr David Wilson, Chief Executive of Stockport Council Caroline Simpson, Senior Responsible Officer for Stockport Council's Armed Forces Covenant Vicki Bates, Deputy Commander of the Army for the North West Colonel Lindsey Forbes, Ministry of Defence Regional Employer Engagement Director for Greater Manchester and Cheshire Louisa Blakemore, members of the local armed forces community, and representatives from the Voluntary, Community, Faith and Social Enterprise (VCFSE) sector, the ceremony signified the importance of recognising the unique obligations and sacrifices made by current and former members of the armed forces.
The Armed Forces Covenant is a pledge to our armed forces community, including current and ex-service people and their families, to ensure they are treated with fairness and respect, and that they are not disadvantaged or discriminated against by their service.
The renewal of the Covenant comes as we near Armistice Day and Remembrance Sunday this weekend.
Stockport Council's renewed Covenant offers support for housing, education, employment, and health and well-being. Support is also available for those who wish to apply for community activities under the Ministry of Defence Covenant Grant Fund.
Businesses and organisations in Stockport are also encouraged to take the pledge, with more information available on our website.