Stockport
Something spectacular is coming to Stockport this November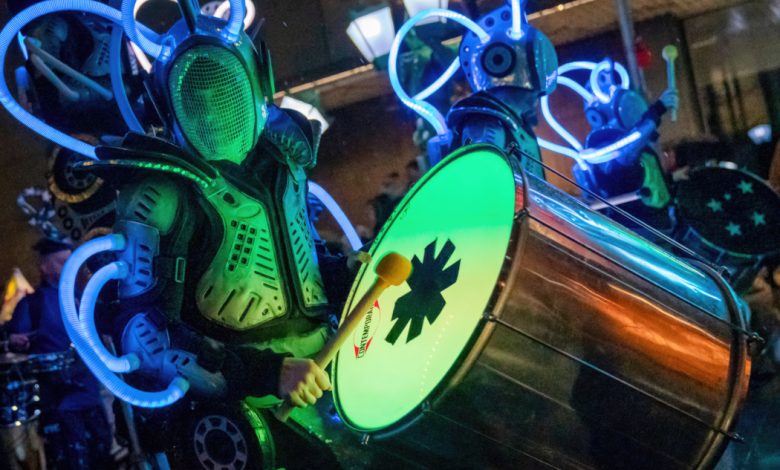 Greater Manchester's Town of Culture, Stockport, will be marking the start of the festive season this November with a ONE-DAY Christmas celebration set to take place across the town centre.
An enchanting journey through the town's shopping streets, Stockport's Spectacular Sunday will be filled with a huge line-up of over 60 breath-taking shows featuring 220 artists alongside roaming acts, carnival fun, live music and festive food stalls – all guaranteed to capture the imaginations of youngsters whilst bringing extraordinary entertainment to families on a scale not seen before across the town.
Produced by carnival arts organisation, Global Grooves, Stockport's Spectacular Sunday will take place on 19 November from 11am – 5pm, where visitors can expect to be amazed and entertained by a variety of charming performers at various locations across the town centre, including Merseyway Shopping Centre, Market Place and The Underbanks.
Organised as a collaborative celebration by Stockport Council, Totally Stockport BID and Merseyway Shopping Centre, the event has been created as part of a programme of events, bringing a year of culture to everyone in the town as Stockport celebrates being named Greater Manchester's latest Town of Culture for 2023.
Full event line-up
Performance times may vary throughout the day
Market Place, 12pm – 4pm
Promising to bring festive magic to all, shoppers and families can expect a grand celebration on Market Place, where Mr & Mrs Boon will be presenting an afternoon tea with a twist, filled with sublime cakes, teas and tunes by Inspiral Carpets and Manchester legend, Clint Boon.
With live music running throughout the Market, don't miss popular technicolour New Orleans marching band, Mr Wilson's Second Liners, who will be bringing glorious, carnival renditions of popular 90s hits, whilst families can also enjoy a Christmas dance-along with Granny Turismo.
One of the classic street theatre shows of the last 20 years, The pompous Spurting Man, by international street theatre legends Avanti, will also be heading to Market Place, performing a series of tricks culminating in a display of squirting water until he cascades fountains of water from his body.
The Underbanks, 12pm – 4.30pm
Celebrating Stockport landmark, Strawberry Studios, the Underbanks will play host to Take Me to The Bridge, a grand concert piano recital showcasing classic tunes, all known to be recorded at Strawberry Studios. Stockport's very own aerial specialists Blush Aerial Dance, will perform several stunning shows suspended above the piano.
Curious, walkabout acts will make their way through the Underbanks, including roaming penguins and giant, enchanting puppets. And to mark the end of the day's performances everyone is welcome at 4.15pm for a huge, festive singalong under St Petersgate Bridge, where local musicians, choirs and community groups will come together next to the piano to mark the beginning of Christmas.
Further up the Underbanks at Mealhouse Brow Junction, The Bicycle Bistros will be bringing their comedic, café mayhem and visitors can expect bucket loads of fun as comedy act and street entertainers, Full Circle by Avanti, bring an intriguing performance to the town filled with many, many buckets at Great Underbank Junction.
Merseyway Shopping Centre, 11am – 5pm
It's a cultural Christmas extravaganza at Merseyway as fascinating walkabout performers take over the shopping centre! Expect stunning fairies, peculiar penguins, dinosaurs in Christmas hats, dancing snowflakes, Christmas Comedy Waiters, a giant stilt Holly tree, comedy acts and many, many more. Santa's street band, Red Hot Santas, will be playing classic Christmas hits with a modern twist, while Stockport's very own specially designed 'Rangoli', will emerge throughout the day, created by acclaimed artist, Ranbir Kaur.
If you're passing by Suffragette Square and Mersey Square, listen out for the miniature carnival that will be parading between the two, at various times throughout the day. 100 local flagbearers will head up a bright and bold procession, alongside dancers and 30-strong carnival drumming band Katumba, who will be bringing a fierce fusion of UK club music and the sounds of north eastern Brazilian carnival. The performers will be accompanied by a squad of giant walkabout puppets, which at 4m high are almost as tall as double decker buses.
And to help visitors make their way around the town, keep an eye out for Stockport's Snail Jockeys, the town's most unusual tour guides! Signposting audiences to special events across the town centre, make sure to stop and take a 'shellfie' as you follow the route.
Cllr Mark Hunter, Leader of Stockport Council, said: "Our ever-popular Christmas event is even bigger and better this year to celebrate our Town of Culture status and to finish the year on a real high, with this free family-friendly event.
"Christmas is a magical time of year and our town centre will be transformed to bring some festive cheer to our many residents and visitors and showcase our fantastic town. This is the icing on the cake to a successful 2023 for our Town of Culture programme, which our local communities have really embraced, with so much more to come over the coming months."
Johnny Clifford, programmer, Global Grooves said: "Stockport's Spectacular Sunday will animate the town and celebrate its cultural diversity. Sites across Stockport, from Merseyway to Market Place and The Underbanks, will come alive with a magical array of street theatre, carnival fun, live music and food. Expect thrills, spills and belly laughs, all adding up to a grand day out."
Rhys Owen, Director, Totally Stockport BID said: "Totally Stockport are once again proud to be working with partners to bring another exciting event to Stockport town centre. As Greater Manchester's Town of Culture, it's only right to offer some unique creativity to honour our incredibly creative town. This year's Christmas event is our biggest for many years and offers something different from a typical seasonal event.
"At a time when many families are struggling, the exciting programme of events will provide a dazzling variety of free entertainment throughout the day and attract visitors of all ages. By bringing magical acts, live theatre onto the streets, we can attract huge numbers of visitors into the town centre and support our town centre businesses at what is a critical trading period. We hope to see many of you at Stockport's Spectacular Sunday!"
Victoria Nichol, Merseyway Centre Manager said: "Stockport's Spectacular Sunday really is an unmissable event for families in Greater Manchester. The sheer number and calibre of performers are on a scale not seen before in the town and we're delighted to be playing our part in bringing this magical event to Stockport to mark the start of the festive season in a very special and memorable way."
For more information on Town of Culture, visit the website.