Manchester City Council
Search is on for team to deliver long-term development framework for new city centre neighbourhood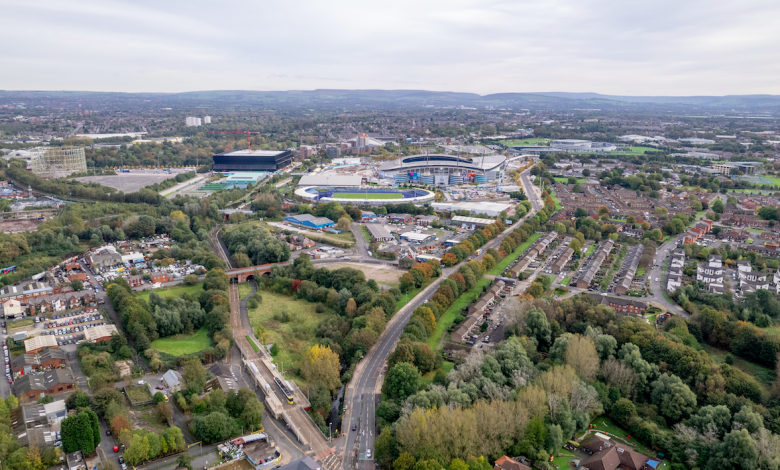 Located between two areas of major economic activity – Ancoats and New Islington in the city centre to the west and Sport City and Etihad Campus to the east – Holt Town presents a significant opportunity to create a new and vibrant city centre neighbourhood.   
Currently, the area is characterised by 30hectares of brownfield land and low-density industrial uses. The successful team will be tasked to fulfil a vision that allows the neighbourhood to meet its significant potential – supporting inclusive economic growth, forward-looking digital infrastructure, new employment and commercial opportunities, and the delivery of a range of new housing, including affordable tenures.   
As such, the NDF will be innovative and transform Holt Town for a common good – a thriving place to live and work.  
The framework will be forward thinking, integrating digital infrastructure into the landscape and will invest in exemplar technologies and platforms to link local people to public services, helping to shape how we live. This includes fresh ideas about digital inclusion and the opportunity to future proof our digital cable infrastructure.  
Given the industrial heritage of this part of Manchester this programme of regeneration will need to overcome major challenges, which will require significant long-term investment. Future development will need to navigate contaminated land and numerous physical constraints associated with gas works and other industries from a former industrial age.   
However, there is a real opportunity here. The area is already well serviced by both bus and Metrolink routes – while boasting only a 15minute walk to Piccadilly train station. The ingredients for a world-class new town in the city are in place.  
The long-term investment plan will open up safe and attractive access along the area's canals, improve access to green space and increase biodiversity, while celebrating the distinctive industrial heritage of the locale.   
Bidders will be able to respond to the Invitation to tender via The Chest 
Deadline for initial expressions of interest is 27 November 2023  
The successful bidder will be announced late February 2024  
Cllr Bev Craig, Leader of Manchester City Council, said:   
"Holt Town represents one of the biggest and most exciting opportunities to implement our vision for communities that deliver sustainable economic growth, new jobs, new affordable housing and inclusive digital technologies.    
"We have a large area of brownfield land brimming with potential and sat between two of our city's key areas of economic growth. Holt Town should be bold and innovative – a new and vibrant city centre community that supports our residents to thrive.    
"However, despite the pros for this area, we already know that developing this part of the city comes with major complications linked to post-industrial land. Regenerating this community comes with real challenges – but they are worth overcoming.    
"The successful team will help us to realise Holt Town's potential and they need to share our lofty ambitions. This isn't an easy ask. We expect exemplar proposals that take our vision to bold and exciting new places. If this is you, we look forward to hearing from you."