Oldham
Oldham gardeners praised during Oldham's annual allotment awards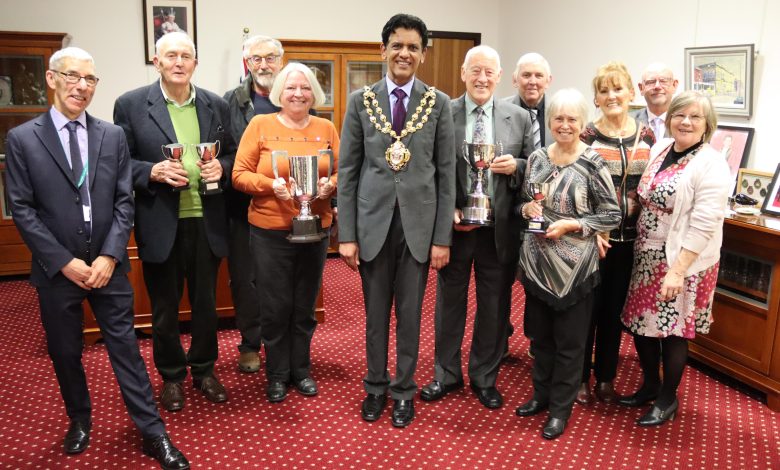 A selection of Oldham's best gardeners have been celebrated for their efforts in making the borough blooming great.
This comes after the results of this year's annual allotment presentation were announced yesterday evening in an event hosted by the Mayor of Oldham.
The competition, which has been running in the borough since before the Second World War back in 1938, is dedicated to highlighting the green-fingered work of local residents with the best plots.
The winner of this year's event was taken by Ian Pratt (pictured below) as he picked up the 'Oldham Chronicle Cup' for first prize.
Ian, who holds an allotment in Heyside, has been working on his plot for more than 48 years and regularly grows the likes of cabbages, turnips and tomatoes as a hobby alongside his wife Hilary.
Mike and Jan Aston of Fernhurst Allotments in Chadderton took second place, with Michael Jeffery coming third on behalf of Oakbank Allotments.
The Oldham Corporation Cup, an award given to the borough's best allotment site, was presented to Chadderton's Fernhurst Allotment, with gardening duo Jenny Widdall and Mike Aston (pictured below) collecting the spoils on behalf of their wider group.
Awards were presented in the Mayor's Parlour, and speaking after the event Councillor Zahid Chauhan OBE said: "Our borough has some of the best green spaces around and our local allotments, and the hard work carried out by those who care for these plots, is what helps to make Oldham such a clean and pleasant environment.
"I want to once again congratulate this year's winners for the amazing work they have done over the last 12 months and more widely to all of our allotment owners across Oldham for the wonderful work they do."
Allotment gardening is not only good for the environment, it has many personal health and wellbeing benefits too, including improvements to your physical and mental health.
This activity is also a great way of connecting with the wider community and saving money on your food bills through the growing of your own produce.
Reflecting on his first prize win, Ian added: "I'm very pleased, I've worked hard but everybody who has come here tonight has worked very hard too.
"It's been a very good year for growing stuff. People say the weather has been terrible but it hasn't, it's been spot on and when you're out in the fresh air, you can't beat that."
Ian, who has been into gardening since the age of eight when he took an interest in his school allotment, revealed he walks six miles a day on average to attend to his plot.
"It's a mile from home, so I usually go up in the morning and do a few bits,  then I come home for lunch, go back up in the afternoon then head home for dinner and I'm back again after that to close down," said Ian.
"Our allotment site is only small but everybody gets on so well with each other and it's a real community, it's a good life."
If you have been inspired by Ian and others on their achievements this year and would like to take up a plot in your local area, contact your nearest allotment today.
For more information, please visit our Allotments and Gardening page.