Manchester City Council
Newton Heath Welcomes First Residents to New Council-Built Low Carbon Social Homes
The initial phase of a remarkable Council-led project has been completed, introducing 69 low carbon homes for social rent on Silk Street in Newton Heath.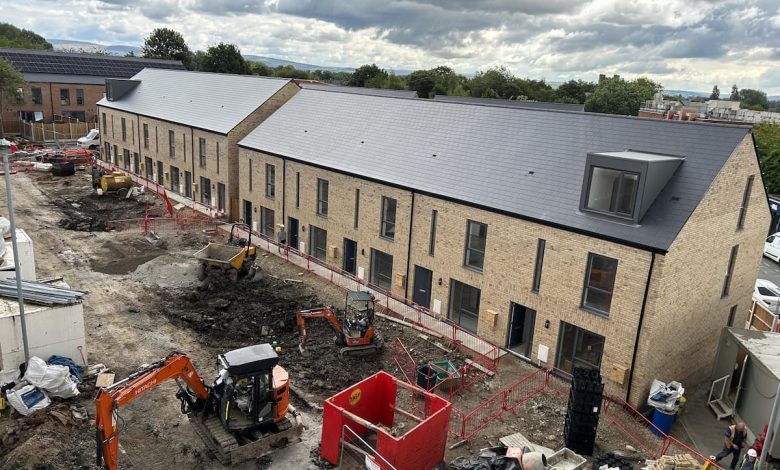 These properties have been allocated to the first group of new residents, marking an important milestone in the endeavour.
The project involved the transformation of long-term publicly owned brownfield land, overlooking the picturesque Rochdale Canal, into a vibrant residential community. The development comprises 36 one-bedroom apartments, 12 two-bedroom apartments, 17 two-storey, three-bedroom houses, and 4 three-storey, four-bedroom houses.
Among the apartments, 16 units have been designated for individuals over the age of 55 who are seeking to "right size" from other council properties in Newton Heath and across North Manchester.
Recently, the first 11 houses were handed over to the Council upon completion by Rowlinson, the development partner. These houses have been allocated to deserving residents from the social housing register through the Council's Manchester Move system.
One of the newly settled residents, Judith Caines, moved in with her three children after living in temporary accommodation since February. She expressed immense joy in finally having a place to call home, highlighting the positive impact on her family's well-being and happiness.
The development is built with sustainability in mind, with solar panels installed on all houses. Generous gardens and private driveways with electric charging points add convenience for residents. The homes will be heated through ground source heat pumps, contributing to their low carbon credentials.
The project is set to be finalized by the end of August, with the apartments handed over to the Council in the early part of Autumn this year. Each apartment boasts a balcony and living walls, providing a green aesthetic to the development. Shared outdoor green spaces and living green roofs further enhance the eco-friendly aspects of the project.
These residences have been thoughtfully designed to adhere to HAPPI principles, ensuring larger internal spaces and the potential for easy adaptations to accommodate the needs of residents, including those using wheelchairs.
The development also serves as an excellent opportunity for apprentices to gain valuable experience. To date, 12 apprentices have contributed to the project, with three of them hailing from the Newton Heath area. Their involvement has exceeded expectations, delivering double the amount of apprentice activity initially anticipated.
Moreover, the project has generated wider social value in the local area. Local schools have had the opportunity to witness the building operation firsthand through site visits. Additionally, toddlers from the neighbouring Brighter Beginnings nursery were given a special VIP experience, observing the work of diggers in action.
Rowlinson, the contractor for the development, has also contributed to improving the nursery garden space, adding new benches, an outdoor sandpit, and bug hotels. Furthermore, they have collaborated with the Council's local Neighbourhood Team to plan enhancements for the Peace Garden and War Memorial in Newton Heath.