Rochdale
Men asked to pledge support for White Ribbon campaign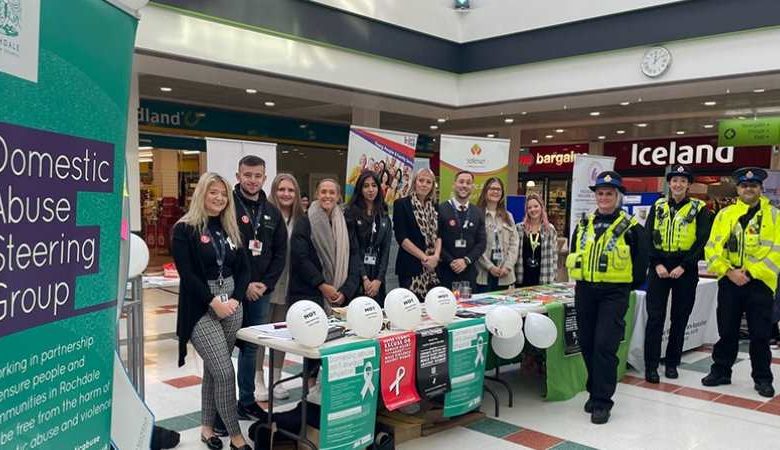 White Ribbon Day takes place on Saturday, 25 November 2023 and is followed by 16 days of action against gender-based violence.
In 2016 the council gained White Ribbon status for its commitment to supporting the aims of the global campaign that puts men at the forefront of making a positive contribution to end male violence and abuse against women.
Council staff and police officers at a White Ribbon display at Rochdale Exchange Shopping Centre.
Men are asked to wear a white ribbon and pledge never to commit, excuse or remain silent about male violence and abuse against women and girls.
During the 16-day campaign, the council and partners will be raising awareness across the borough of what domestic abuse is, how to report it and what support is available.
The events include domestic abuse awareness sessions across the borough and courses for frontline staff working with families and couples.
Information stalls will be available on:
Men can pledge their support at one of the many pledge boxes around the borough and the Women's Welfare organisation will again deliver White Ribbon awareness sessions to boys in Falinge Park and Matthew Moss schools. A White Ribbon football match at the Soccer Factory will be held again and so will the White Ribbon Vigil to honour the many women across the UK who have died as a result of domestic violence.
Councillor Janet Emsley, Rochdale Borough Council's joint deputy leader and cabinet member for equity, safety and reform, said:
"Everyone has a crucial role to play in creating a culture where male violence, abuse and harassment against women is unacceptable. We want our residents to take a stand against gender violence and share this important message across their workplaces, schools, communities and families, so we can put a stop to this abuse."

"Unfortunately, this type of abuse is still happening in our borough and for victims, it can be an extremely scary and lonely experience, I want to assure women that support and services are available to help you stay safe. Domestic abuse and violence is an issue 365 days of the year, but we all must take this time to acknowledge the issue and to pledge to take action."
Although the campaign focuses on male violence and abuse against women, support is also available for male victims of domestic abuse in the borough of Rochdale.