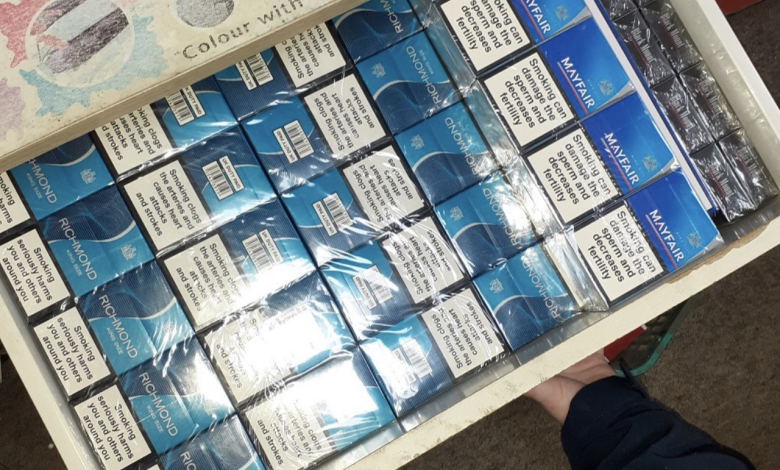 Following a complaint made to Trading Standards officers visited Pound Plus, in Old Church Street, Manchester, in August 2021 to arrange a test purchase of products on sale.
The result of this purchase was that a single pack of cigarettes sold in non-standardised packaging was sold for £5 to the test purchaser.
In November 2021 the Council returned to the premises with a tobacco detection dog to assist with a search of the premises. When searched a large amount of illicit tobacco products were found on shelves and behind the counter of the shop.
The items did not comply with tobacco regulations, and following testing were confirmed to be counterfeit. In total 3,760 cigarettes and 64 packs (3.2kg) of hand rolling tobacco was seized.
When interviewed the owner of Pound Plus, Salma Sarwar Khan, 44, of Birkdale Street, said the sale of illicit tobacco was the responsibility of a shop assistant, and not hers.
The following month in December 2021 a further complaint was received about the alleged sale of illicit tobacco from the same premises. This was followed up in February 2022 when Trading Standards re-visited the premises, again with a tobacco detection dog. Illicit tobacco was found concealed behind the counter as well as on shelves and in black bin bags around the shop floor.
A total of 7,460 cigarettes and 98 packs (4.9kg) of hand rolling tobacco was seized.
When interviewed under caution, Khan admitted the tobacco seized during both Trading Standards visits belonged to her, and that she gave false information during a previous interview.
She also said that the tobacco seized was bought from a 'European man in a white van'.
At a hearing held at Manchester Magistrates' Court on October 5, 2023, Kahn pleaded guilty to 18 offences under the Trade Marks Act, Tobacco Regulations and Standardised Packaging Regulations.
At her sentencing hearing held at the same court on Friday, 17th November 2023, she was sentenced to a 12-month community order, requiring 10 days of rehabilitation activity to be completed. She was also fined £750, ordered to pay a victim surcharge of £95 and pay costs of £2,385.19.
A forfeiture and destruction order was also made against the seized goods.
Councillor Luthfur Rahman, Deputy Leader of Manchester City Council said: "This case proves that in the end the truth will always come out. Through the diligent work of our Trading Standards team and legal officers the lies of this trader fell apart and their wrongdoing was exposed.
"As a Council we are committed entirely to getting illicit tobacco out of our communities and shutting down ways people can purchase it. I would like to encourage anyone who thinks illicit tobacco is being sold to get in touch with us, and help stamp out this type of crime."