Rochdale
Highways winter service gets ready to hit the road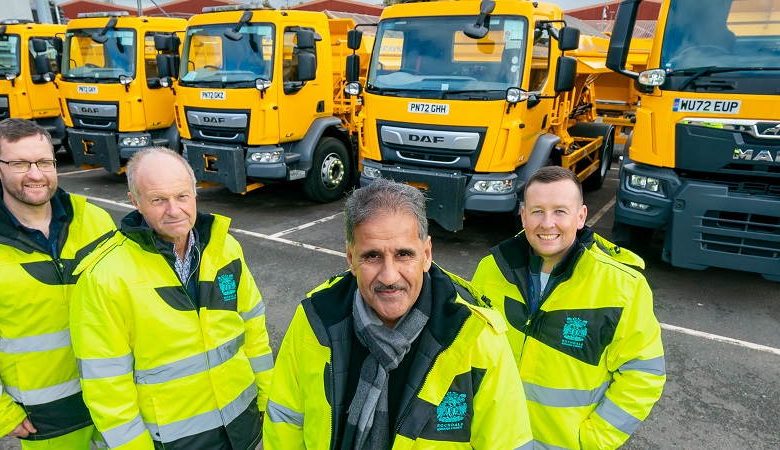 The highways team are all set for snow and ice, with 4,500 tonnes of salt ready to be used across the borough's roads when the wintry weather sets in. In recent weeks, the team have also been busy filling up the 650 grit bins which are dotted across the borough.
The team regularly monitor air and road temperature, through weather stations located across the borough, a computerised ice detection system and cameras. Once conditions demand it, the team of drivers will hit the road and be on call 24 hours a day, 7 days a week, with the winter service running right into April 2024
The gritters also use automatic gritting technology, which spreads exactly the amount of grit salt required to help prevent ice from forming. This enables the driver to focus on driving and ensures no salt is wasted.
A new addition to the council's snow-fighting armoury for this year is a snow blower, which can be used to clear roads when the snow is too deep for the ploughs. The blower was bought as part of a wider investment into the borough's roads to further drive up standards following a move to bring the service in house.
Around 200 miles of roads are salted during each round of gritting. There are 7 routes covering different parts of the borough and each gritting run takes around 4 hours to complete.
Councillor Shah Wazir, cabinet member for highways, said:
"There's a huge amount of planning and preparation which goes into the winter service, with driver training, salt stocking and much more happening months before the cold weather sets in.

"The work that the team do to keep the borough running is so important. Without it, vital services would struggle. We need to ensure that ambulances can get where they need to be, that people can get out to work and important appointments and that children can get to school safely.

"I'm really proud of our team. They're often out and about on the road at 3 and 4am, when everyone else is in bed, and I know that a number of them left their families at home on Christmas Eve and Christmas Day last year to grit the roads and keep everyone safe."
During spells of bad weather, residents are being encouraged to park in a way that makes it easy for the gritter drivers to move along the roads and to always check on neighbours, particularly older people. It's vital that people's cars are safe and ready for winter and that motorists don't forget to carry the basics, like de-icers and blankets. It is also vital that drivers understand that gritting can only do so much and in periods of very bad weather, they should always stay off the roads if at all possible.
Tips for driving in extreme weather: